MAC Cosmetics launches new lashes created by celebrity makeup artist and lash designer Christina Smith.  Christina who has helped MAC to re-design MAC Lashes also custom designed lashes for Hollywood leading ladies including Liza Minnelli, Kate Hudson, Hayden Panettiere, and Gisele Bundchen.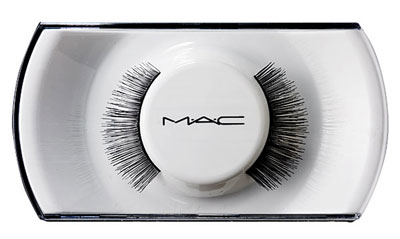 Christina Smith created 11 exclusive lash styles with original new features and streamline packaging.  No longer are lashes just for special nights out or glamorous events, they have become an everyday staple worn by women at all ages. 
New MAC Lash features and benefits:

Color-unique blend of black and brown natural hair.  Great for even the fairest lashes.
Clear Band-ground-breaking thin, clear band for easy application.  Lashes can move, bend and blend.   
Shorter Width-say goodbye to trimming false lashes to fit.  MAC newly designed lashes have a shorter width.  
Intentional Imperfection-more natural effect, no two lashes are the same or perfectly symmetrical.
MAC Lashes will last approximately 3-6 wears, with proper care.  Store lashes in a cool, dry areas as humidity or warm temperature (often found in the bathroom) may compromise the curl of the lash.  Cost: $ 11.  Available now (since October) at all MAC locations (via an official MAC press release).