MAC Gives Good Lash: Do you know your MAC Mascara? Here's the list of the best. Which MAC mascara are you?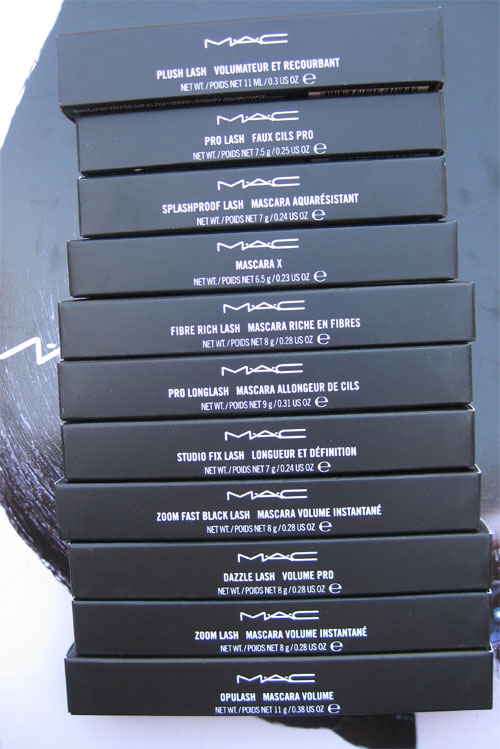 From top to bottom:
MAC PLUSH LASH
MAC PRO LASH
MAC SPLASHPROOF LASH
MAC MASCARA X
MAC FIBRE RICH LASH
MAC PRO LONGLASH
MAC STUDIO FIX LASH
MAC ZOOM FAST BLACK LASH
MAC DAZZLE LASH VOLUME PRO
MAC ZOOM LASH
MAC OPULASH
"Mascara is the silent partner to any made-up face. From string and bold bedroom eyes to the nude subtlety of 'no-makeup makeup', mascara completes the look. If it were a credit card, it would be a black Amex: don't eave home with out it! My Personal favorite: MAC Pro Lash."-Nadine Luke MAC Director of Makeup Artistry
"I love the curl mascara gives to lashes-and I work it to the max. Pre-mascara I curl lashes about four times to maximize the shape, then coat the lashes with Prep+Prime lash primer before applying mascara. My current fave: MAC Dazzle Lash. It's the darkest mascara on the planet. Dazzle Lash allows to lashes to stand out brilliantly against any skin tone."-Romero Jennings MAC Senior Artist
If you are looking for natural, lifelike lashes…
MAC PRO LASH defines
MAC SPLASHPROOF LASH defines
MAC PRO LONGLASH lengthens
MAC MASCARA X volumizes
MAC DAZZLE LASH volumizes & curls
If you want dramatic, beyond real lashes…
MAC STUDIO FIX LASH defines
MAC ZOOM LASH volumizes
MAC ZOOM FAST BLACK LASH intensifies with carbon black
MAC FIBRE RICH LASH volumizes
MAC PLUSH LASH volumizes and curls
MAC OPULASH volumizes and curls
MAC PREP+PRIME LASH primes and the ultimate undercoat to pump up mascara
About the Author
I am one of the top fashion and beauty bloggers in the world also a Luxury Paradise Valley and Scottsdale REALTOR with Russ Lyon Sotheby's International Realty.