MAC Naked Honey will be available in North America June 11, 2009 at all MAC locations, 1.800.588.0070 and www.maccosmetics.com and International July 2009.
Bees do it… now MAC does it! Honey that is! As ancient and exotic as Kohl, great beauties have long revered the natural restorative powers of the Golden Elixir.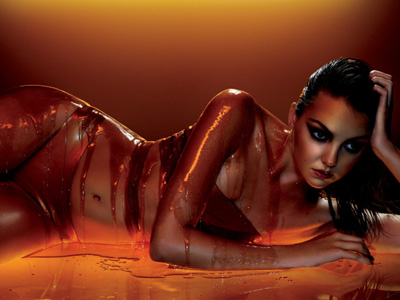 Following the example of their fabled Queen, Cleopatra, Egyptians bathed in honey and milk. Queen Anne of England used it to silken her hair; from the Ancient Greeks to the Roman Empire, honey has never lost its regal, ever-amber lustre. We love the luxury of its sensual essence…but we also know that it's a highly efficient and wholesome humectant and healer.
Introducing our limited edition Naked Honey collection – three aspects of golden warmth and sun-made sweetness for the body, layered with two decidedly different honeycomb-derived fragrances – celebrating the secret lives of Queen Bees. Complementary shades of High-Light Powder, Eye Shadow and Lipglass are all the buzz for summer.
LIPGLASS
She's a Star Light neutral gold


Queen Bee Mid-tone apricot w/ multi-dimensional pearl


Buzz Dark copper brown w/ multi-dimensional pearl


Suggested Retail Price $14.00 U.S./$16.50 CDN
EYE SHADOW
Crème de Miel Frosty light yellow gold

Pollinator Mid-tone warm reddened peach w/ pearl
Buckwheat Dark copper brown w/ multi-dimensional pearl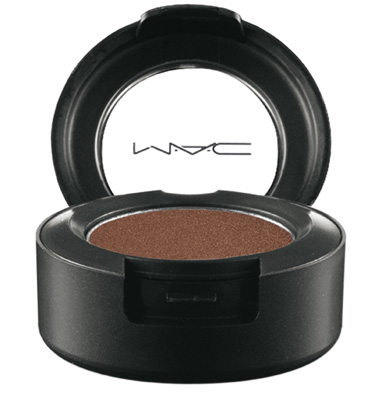 Suggested Retail Price $14.50 U.S./$17.00 CDN
High-Light Powder: A High -Light Powder specially created for the Naked Honey collection . Features an embosed honeycomb pattern . Super fine , impeccably pearlized, it creates soft high lights on Cheek, brow, shoulders, anywhere on the body .
Honey Light: A light peachy gold with shimmer
Golden Nectar: Muted golden tan with gold shimmer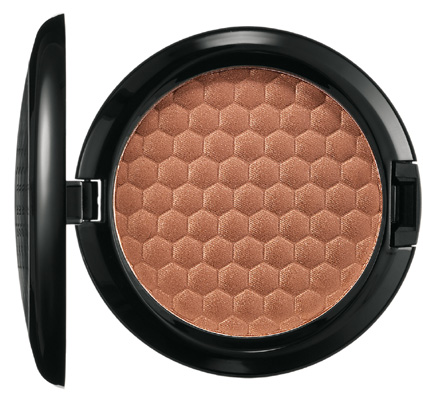 Suggested Retail Price $24.50 U.S./$29.50 CDN
Naked Honey Skin Salve: formulated from honey, organic beeswax, sunflower oil l and other natural ingredients, this rich honey -scented and flavoured salve instantly moisturizes and helps recondition dry skin . Multi-purpose . Use everywhere. Suggested retail price $18.50 U.S../$22.50 CDN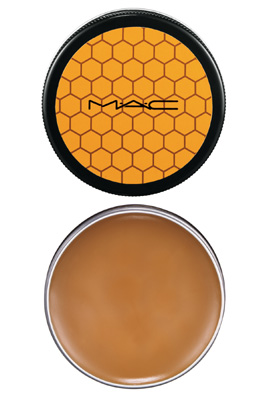 Naked Honey Hand and Body Cream: a sensuous cream made from bio-converted honey, shea butter, and vitamins C and E derivatives. Absorbs quickly for skin-softening moisture . Conditions, nourishes, protects . Use on all areas where ultra -moisture is called for. Suggested retail price $22.50 U.S./$27.00 CDN
Naked Honey Body Wash: Formulated from bio-converted honey, this body wash cleanses the skin while providing the soothing and moisturizing benefits of lavender, narcissus, jasmine flower and blue agave extracts . Provides a sensual, calming , cleansing experience. Suggested retail price $19.50 U.S./$23.50 CDN
Creations: Naked Honey: An aromatic journey that traces honey 's fragrant heart back to summer's sweetest blooms. Energy starts to buzz, spirits soar, light floral and woodsy notes float toward an electric finale. Sweet and sexy all the way. Suggested retail price: $22.50 U.S./$28.50 CDN
Creations: Africanimala: Scent that starts with a honey-ness that 's seductive and given its dash of pepper, not without spice. Add a dark kiss of bergamot and wood, and an aromatic orgy breaks out to create a scent that's all-honey, but far from sweet. Suggested retail price: $22.50 U.S./$28.50 CDN