Introducing MAC Post Holiday Collections 2010. Available Jan – Mar 2010.
MAC Post Holiday 2010 features nudes and warm, comfy colours in Warm & Cozy and All Ages, All Races, All Sexes and shimmery, icey winter shades in Love Lace. In the Studio debuts MAC Studio Fix Lash, a new mascara that features a synth-rubber moulded brush for ultimate definition, while MAC In Lillyland, a collaboration with Palm Beach's Lilly Pulitzer, brings out the South Florida sun with brilliant colors.
MAC WARM & COZY
A fireside fantasy far from the maddening crowd is undeniably appealing. Seek refuge in the warmth, the glow of skin rosy with Refined Golden Mineralize Skinfinish, Shadesticks in Cuddle, Nurture and Snuggle shades, cozy as a mug of cocoa on a bearskin rug. Care Blends Essential Oils in Sweet Orange + Lavender, or Grapefruit + Chamomile feels soothing and sultry when elements are harsh and extreme…add MAC signature innovation with Mineralize All-Over Moisture Lotion, a new permanent product, and see new radiance, revivified lustre, optimum health. Like going on retreat and communing with nature, it's an earthly way to bring back what the city takes away, and a sensual solution to make life simple, but luxurious. Winter beauty begins here.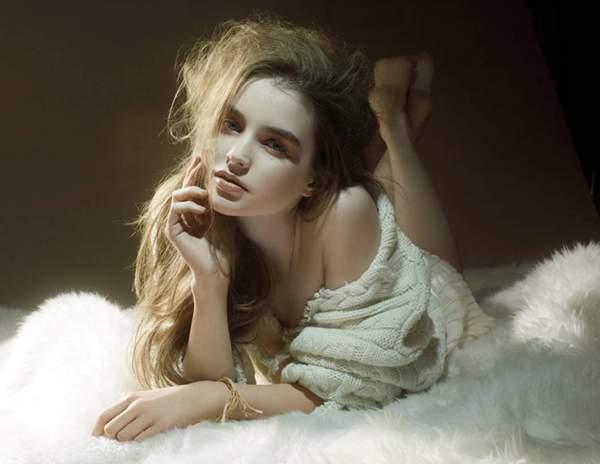 Available December 26, 2009 through February at all MAC locations.
MAC LOVE LACE
This salon-intimate collection is all about a dramatic, intense, smoky eye, with shadows that flash frosty grey to deep blue. Kohl Power is brought back for a limited time in favourite shades plus a new blackened marine blue. And naturally, 44 Lash adds the depth and desire. Lips stay pleasingly pale and Nail Lacquer in Light Affair adds a hint of danger. If ever there was a moment to do away with the winter doldrums and add some instant intrigue, this is it.
Available December 26, 2009 through February 2010 at all MAC locations.
MAC IN THE STUDIO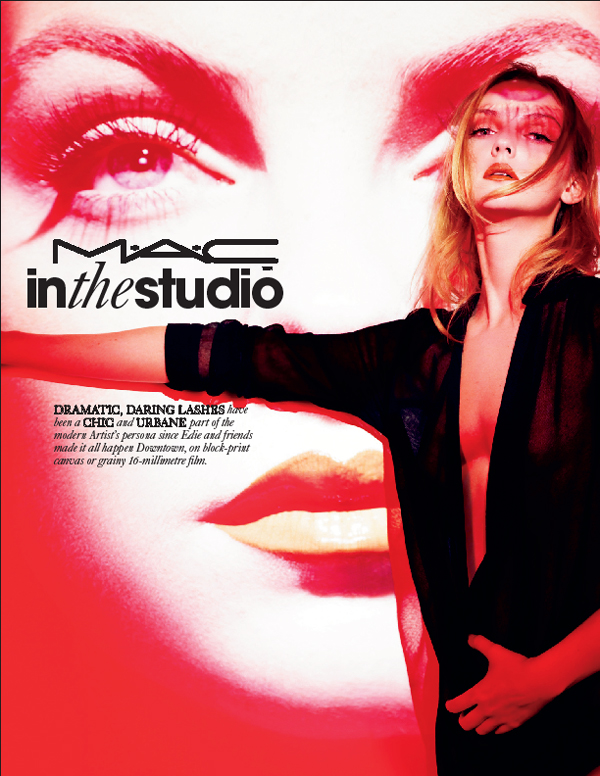 Dramatic, daring Lashes have been a chic and urbane part of the modern Artist's persona since Edie and friends made it all happen Downtown, on block-print canvas or grainy 16-millimetre film. Multi-media, counter-culture, the ultimate cool. In The Studio is the epitome of the look updated, featuring new Studio Fix Lash in Black Fix or Studio Brown, with the latest thermoplastic synth-rubber moulded brush, designed to kill clump as it separates lashes. Go for the bold stroke, as they do In The Studio.
Available December 26, 2009 in the permanent collection at all MAC locations.
MAC ALL AGES, ALL RACES, ALL SEXES
All Ages, All Races, All Sexes is our credo. Now MAC takes the "One World" idea further than ever, with a multi-culti colour story, intent on a universal focus – spectacularly shaded and shaped brows for all, because beautiful people come in colours! Miraculously matched to the individual, Impeccable Brow Pencil is the ultimate artist's tool to fill, lengthen and shape, with a firm tip that sharpens application for high-performance precision. Penultimate Brow Marker, in one shade suits all, is a liquefied glide adept at the all-important arch. But that's not all: Lipstick, Lipglass, Eye Shadow and Nail Lacquer shade extensions speak your language, a match for every international skin tone.
Available January 7, 2009 through March 2010 at all MAC locations.
MAC In Lillyland
When MAC meets the lore and legend that is Lilly Pulitzer, you get a fabulous and funky fun new chapter: a bit of Mar-a-Lago, some well-to-do winky-wink, and a dash of retro-modern pop culture mayhem in prints and colours that make it hip to be in permanent happy land! A collaboration that feels like the best tongue-in-chic resort retort, with all the wonderful prints and Key West colour combinations Lilly has done so beautifully since, well, forever! Fly down to South Florida, with MAC in Lillyland!
Available January 7, 2009 through February 2010 at all MAC locations.