Introducing MAC Venomous Villains. Available September 30, 2010 through October 2010.
A potion to poison, an apple to bite, a spell to cast…bad never looked so good. A crystal ball of colour created from your favourite Disney Venomous Villains, inspired by the three most infamously frosty, fabulous and formidable of Disney's Dark Ladies…and one dastardly Dr. Facilier. Don't you love it? A MAC and Disney collaboration to celebrate the dark side in every one of us, in a glamorous sort of way.
Who's the fairest one of all? Four separate mini-collections, in haute animated couture. The incomparable Cruella de Vil and Snow White's Evil Queen, each featured on one ultra primary displayer Sleeping Beauty's Maleficent and The Princess and the Frog's Dr. Facilier are both up to no good on their own. Uniquely designed iconic packaging you will kill for, cunning characters and bedeviled beauties that are so alluring, you can't help but wonder: what would it be like to be one?
A POTION TO POISON, AN APPLE TO BITE … MEET M.A.C'S VENOMOUS VILLAINS
Sleeping Beauty got her prince, and Snow White may have been the fairest in the land, but when it comes to classic fairy tales, good girls are so cliché. What really captures our attention are the vampy devilish divas that always manage to cast a spell over everyone they meet. In the spirit of the unabashedly cunning seductress, MAC Cosmetics has collaborated with Disney to created four separate colour collections that pay homage to a cast of characters who aren't shy about being very, very bad. There's the incomparable Cruella De Vil, the infamous London heiress hell-bent on obtaining one very couture fur coat; the jealous, aging supermodel that is Snow White's Evil Queen; Maleficent, a snubbed evil fairy whose vengeance put Sleeping Beauty to bed without supper; and the devious Dr. Facilier, a hip, stylish voodoo king with a thing for frogs. Featuring a palette of pearlescent blacks, royal plums and rosy reds, you wouldn't dare turn them down. It's absolutely wicked.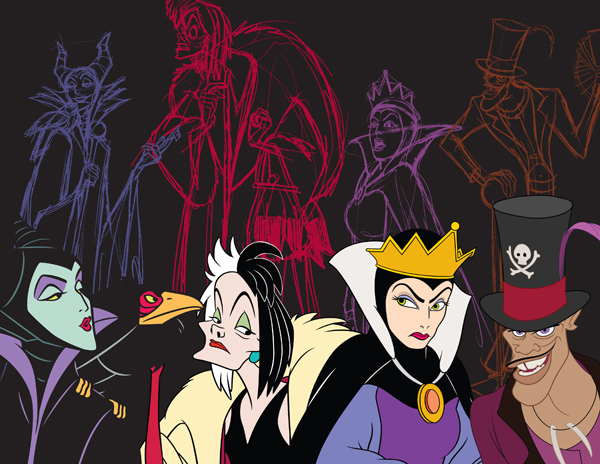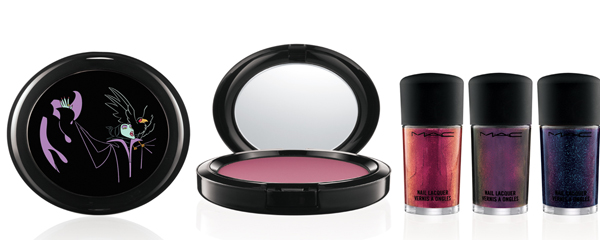 ABOUT DISNEY VILLAINS
The Walt Disney Company has a heritage of creating the most classic, beloved characters of all time, and that includes this cast of unforgettable villains. Cruella De Vil appeared in the 1961 film One Hundred and One Dalmatians, and in 2005 was ranked the #1 Disney villain by the Walt Disney Company. Maleficent is the self- proclaimed "Mistress of All Evil" in the 1959 classic, "Sleeping Beauty;" and the Evil Queen from the 1937 film Snow White and the Seven Dwarfs is synonymous with the infamous phrase, "Mirror, mirror, on the wall. Who is the fairest one of all?" Most recently, Disney welcomed its newest villain in The Princess and the Frog, the incomparable Dr. Facilier, a voodoo king with "friends on the other side".
CRUELLA DE VIL
Eye Shadow
Sweet Joy Frosted creamy pale gold (Frost)
De-Vil Rich copper (Veluxe pearl)
Carbon Intense black (Matte)
Suggested Retail Price $15.50 U.S./$18.50 CDN
Lipstick
Innocence, Beware! Light yellow pink (Cremesheen)
Heartless Cherry red (Amplified)
Suggested Retail Price $15.50 U.S./$18.50 CDN
Lipglass
Wicked Ways Light nude with gold pearl
Devilishly Stylish Deep fuchsia with pink pearl
Suggested Retail Price $15.50 U.S./$18.50 CDN
Powder Blush
Darkly My Dear Dirty Brown Plum (Matte)
Suggested Retail Price $19.50 U.S./$23.50 CDN
Beauty Powder
Her Own Devices Cool nude
Suggested Retail Price $25.00 U.S./$30.00 CDN
Penultimate Eye Liner
Rapidblack True black
Suggested Retail Price $16.50 U.S./$20.00 CDN
EVIL QUEEN
Eye Shadow
Her Alter Image Light violet (Veluxe pearl)
Vainglorious Bronze burgundy (Frost)
Vile Violet Deep dirty blue purple (Matte)
Suggested Retail Price $15.50 U.S./$18.50 CDN
Lipstick
Toxic Tale Bright coral (Satin)
Sinister Soft brown plum (Lustre)
Suggested Retail Price $15.50 U.S./$18.50 CDN
Lipglass
Strange Potion Soft coral pink
Hot House Deep raspberry with pink pearl
Suggested Retail Price $15.50 U.S./$18.50 CDN
Powder Blush
Bite of an Apple Soft coral pink (Matte)
Suggested Retail Price $19.50 U.S./$23.50 CDN
Beauty Powder
Oh So Fair Clean pink with gold pearl
Suggested Retail Price $25.00 U.S./$30.00 CDN
Penultimate Brow Marker Suggested Retail Price $16.50 U.S./$20.00 CDN
MALEFICENT
Mineralize Eye Shadow (DUO)
My Dark Magic Deep pink with pink pearl/ Deep plum with purple pearl
She Who Dares Deep navy with blue pearl/ Deep forest green with lime green pearl
Suggested Retail Price $21.00 U.S./$25.00 CDN
Lipstick
Violetta Bright clean violet purple (Amplified)
Dark Deed Burgundy plum (Amplified)
Suggested Retail Price $15.50 U.S./$18.50 CDN
Lipglass
Revenge Is Sweet Light yellow purple
Wrong Spell Deep plum with pink purple
Suggested Retail Price $15.50 U.S./$18.50 CDN
Beauty Powder
Briar Rose Soft violet pink with pearl
Suggested Retail Price $25.00 U.S./$30.00 CDN
Nail Lacquer
Bad Fairy Red with red multi-changing pearl
Formidable! Teal green with pink multi-changing pearl
Mean & Green Purple with teal multi-changing pearl
Suggested Retail Price $13.00 U.S./$15.50 CDN
DR.FACILIER
M∙A∙C Magically Cool Liquid Powder
Truth & Light Sheer shimmer that reflects silver and pink
Cajun Sheer bronze shimmer that reflects gold
Suggested Retail Price $29.50 U.S./$35.50 CDN
Lipgelée
Resort Life Off white with pink pearl
Suggested Retail Price $15.50 U.S./$18.50 CDN
Greasepaint Stick Slick Black True carbon black French Quarter Dirty black green with multi-colour pearl
Suggested Retail Price $17.50 U.S./$21.00 CDN
Pigment
Melon Soft bright golden peach (Frost)
Brash & Bold Bright magenta (Frost)
Push the Edge Deep bright purple with pearl (Frost)
Suggested Retail Price $19.50 U.S./$23.50 CDN
Zoom Fast Black Lash Deepest black
Suggested Retail Price $14.00 U.S./$16.50 CDN
M∙A∙C I'm So Vain Mirror
Compact inspired by collaboration; interior contains standard mirror on one side and magnifying mirror on alternate side Suggested Retail Price $12.00 U.S./$14.50 CDN
MAC Venomous Villains on counter starting September 30, 2010 through October 2010