This year marks Make Up For Ever's very special 25th Birthday. Creator and Artistic Director, Dany Sanz, began the line in Paris back in 1984 with a few friends and some kitchen tools. Since then, the brand has grown up and out alongside the global make up artist community, and has long been known within that world as the "Industry's Best Kept Secret."
To celebrate Make Up For Ever's big year in an even bigger way, they have decided to let the rest of the world in on their not-so-little secret. Yes, Make Up For Ever is LETTING THE SECRET OUT!
Though Make Up For Ever has many secrets, they have chosen twelve of their favorite "Secrets" to tell us. Their "Best Kept Secrets" are new and old, silly and serious, but mostly, they have only been known amongst the professional make up artist community until now.
However, because spilling all of their "Secrets" at once would leave you spinning, Make Up For Ever plan is to send just a few at a time to keep you steady on your toes. 
Best Kept Secret #1: Make Up For Ever Glossy Full. Glossy Full. What it is: A unique, ultra glossy lip plumping gloss.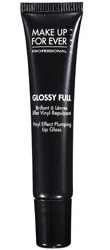 This clear clear gloss is also known as "the grown up gloss" by industry experts. A professional makeup artist favorite, this original Glossy Full has been used by top artists on fashion editorial shoots to give lips uber vinyl-like shine no other product could provide.
Now, by popular demand, shine and color are married with the launch of Make Up for Ever Glossy Full Couleur.

Make Up For Ever Glossy Full Couleur has a light, non-sticky texture that is long-lasting and leaves lips ultra shiny. Lips will remain supple and mentholated fragrance reinforces the iced, frosty effect of the gloss.
Lottie Stannard, editorial makeup artis and Make Up For Ever fanatic, was one of the artists to inspire the new gloss. "Glossy Full is always in my kit. I rely on it for a really 'wow' mouth that shines like vinyl and removes all lips lines for seamless, glass like results, " says Lottie.
Available at Sephora.com from March 2009. SRP: $19 each.
Best Kept Secret #2: Faux Lashes: Boasting the largest range of Faux Lashes in the industry, MAKE UP FOR EVER now has 60 different styles to choose from to create lash looks that range from daytime to dramatic.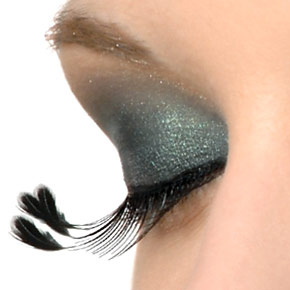 The first Faux Lashes were launched in 1984 with the start of the brand. After building up the category throughout the years, it was relaunched in the U.S. in 2008 with a range of 55 Faux Lashes.  MAKE UP FOR EVER broke the mold that year to rename normally numbered Faux Lashes after our friends in the industry. Hand-made from natural hair or nylon, each lash has an extremely thin base to blend in with the natural lash line. Faux Lashes come with a special adhesive to keep lashes in place for as long as you want, and every lash is reusable for more than one wear.
Today, our Faux Lashes are worn by talent across the entertainment industry. Fashion designer Betsey Johnson has been wearing Faux Lash Floriane #21 for years, and has used Make Up For Ever lashes exclusively in her past few runway shows. Broadway's "it" girl Sutton Foster wears Make Up For Ever Faux Lashes in the play Shrek. Musician Lady Gaga can't go without Faux Lash Jane #116.
NEW Natural FAUX LASHES: Make Up For Ever's new range of Natural Faux Lashes were designed by Dany Sanz to be an everyday lash accessory. They gently intensify the look of lashes by filling in and lengthening lashes in a natural looking way.



From left to right: Ying #154, Genevieve #156, Lori #157, Monica #158.
To use: Faux Lashes can be applied in just one minute, with five simple steps to luxe lashes:
Step 1: Hold lash up to eye without adhesive to estimate placement, then trim excess lash if needed.
Step 2: Loosen the lash by bending it back and forth a few times, then apply a thread of adhesive along the base of the lash. Let the adhesive dry for a few seconds so that it is tackier when applying.
Step 3: Align the lash on the lid to meet the natural lash line. Start in the middle of the lid and press down lightly with fingertip, moving towards the inner and then the outer corner of the eye
Step 4: Apply eyeliner along the edge of the lashes to blend the line between the Faux Lash and the natural lash line.
Step 5: (Optional) Finish by applying mascara to your lashes and the Faux Lashes to blend them together.
Availability: Original Faux Lash range – Sephora.com; New Natural Faux Lashes – Sephora.com – March 2009
SRP: $15.00 each.