NEW YORK, March 16, 2011 /PRNewswire/ — MAKE UP FOR EVER, the Paris based professional make up brand coveted by top industry artists, is launching its first ever print and online make up campaign that has not been digitally retouched (the ads have been certified by a notary public). The ad depicts a beautiful woman snapping a photo of herself, highlighting the brand's HD Invisible Cover Foundation which provides a photo ready finish after every application. HD Invisible Cover Foundation was created to be used in front of unforgiving high definition video cameras and provides results so flawless that the need for retouching has been eliminated. The campaign launches online March 16th, 2011, and will appear this spring in issues of select national magazines.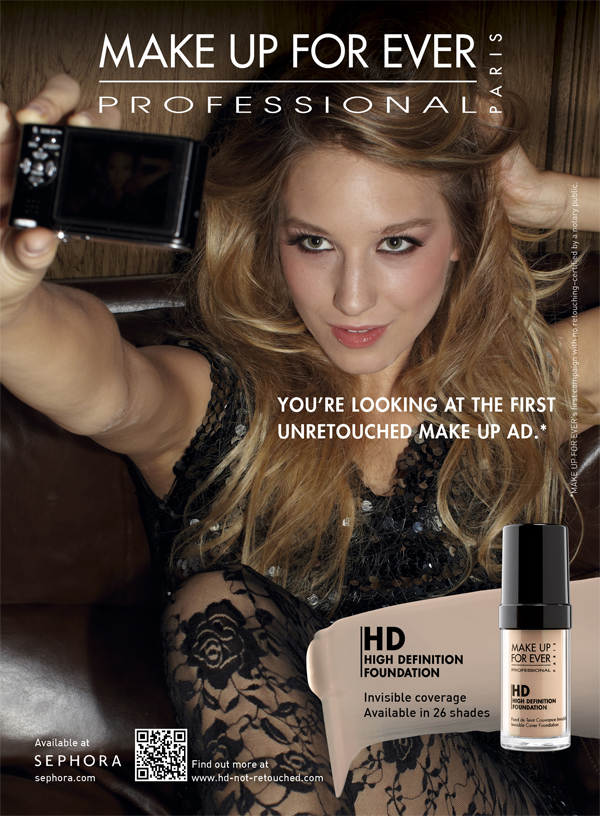 While unretouched photography has been celebrated by magazines and celebrities alike, there are still very few advertising campaigns that use imagery that has not been digitally altered. HD Invisible Cover Foundation was developed specifically to mask imperfections that are often magnified in front of a camera lens, without adding texture to the skin. MAKE UP FOR EVER is thrilled to show women everywhere that they can look perfect both in front of the lens and in their everyday lives by choosing products that deliver professional results and can stand up to modern technology.
Watch:
To take the print and online campaign to the next level, MAKE UP FOR EVER will also launch a dedicated microsite, www.HD-Not-Retouched.com, which features an interactive short film created to further highlight the models' perfect complexions and engage users in a meaningful way. The film, which was shot in high definition and appears in slow motion, depicts four models on a seemingly endless staircase at a glamorous party. The models in the video have (of course) not been retouched, but are next to people and objects that have been digitally altered in order to show how deceptive retouching can be to the naked eye.
After watching the video, viewers are invited to play a game which challenges them to discover all of the objects in the video that have been retouched. For each correct answer identifying a person or object that has been altered, the user will be entered into a contest to win a number of prizes, including a trip for two to Mercedes-Benz Fashion Week Swim in Miami (for which MAKE UP FOR EVER is the official make up sponsor), digital cameras, and HD Complexion product. The contest runs from March 16th – April 6th, 2011.

Available in 26 shades to match all skin tones, MAKE UP FOR EVER HD Invisible Cover Foundation provides oil-free, medium-to-full-coverage that creates a soft-focus effect to soften lines and blur imperfections. It retails for $40. Visit Sephora.com for additional information.