Victoria Rowe is a Celebrity Makeup Artist who had worked with Lady Gaga, Keri Hilson, Ashley Greene, and now Sarah Carter from the new Spielberg series, "Falling Skies". I've met Victoria one day backstage at LA Fashion Week few years a go and I must say she is one cool and talented lady. I'm now pleased to share with Victoria's makeup tips especially for summer.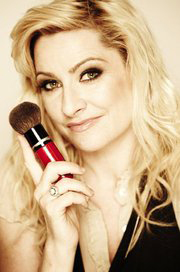 Victoria's TOP TEN Makeup Items
Everyone NEEDS to have at home or in their purse right now!
1. Oil free facial moisturizer I prefer ALBA Oil-free Green Tea Moisturizer, Avalon Organics Lavender Moisture cream for sensitive skin, or BLISS SPA Oxygen +Vitamin C Cream (gel). Any of these will combat dryness without oil and, dare I say, help get rid of most every kind of ACNE in a woman, girl, or man of any age.
The more water and vitamin C your skin gets, the faster it will clean itself out without the use of drying acne treatments and harsh medications. This is especially true for those who live in low humidity (ACNE in DRY) states like California, Arizona, Nevada, Utah, New Mexico, Arizona, Texas, and Oklahoma. For ACNE in HUMID climates try Mario Badescu Drying Lotion or cream at night, and Murad Anti Acne Concealer during the day.
Pretty cool, right?
2. Sunblock with an SPF of 30 or higher. There are so many. Stick with organic and natural ones. The best sun block I have ever used comes from www.eminenceorganics.com called the Tropical Vanilla body cream and the Tropical Vanilla Face cream, both with SPF 32. I LOVE this!!! Do yourself a favor and order both for the summer from the website, or find the spa which carries it nearest you. They also have an SPF 30 Sun Defense Mineral powder that comes in a convenient wand you can throw in your purse or makeup bag! Gotta have it!
3. Face Primer If you're afraid of primers, or you think they all feel oily and like a ball of silicone, search no more! The only one I really recommend is POP BEAUTY's Paraben free Face Magnet Primer (www.ulta.com). This unique primer has a zinc base making it look and feel like a sunblock. It will firm skin, calm redness with zinc and licorice, block UV rays, and shrink PORES with CAFFEINE! It controls oil (for oily skin), locks in moisturizer (for dry skin), and holds your makeup in place ALL DAY LONG! Originally made for sensitive skin and Rosacea sufferers, Face Magnet is a head above all the rest. EVERYONE NEEDS THIS PRIMER!
4. A great Mascara I'd stay away from drugstore brands becauseof all the alcohol and chemicals in them which can lead to losing your lashes! Some of my favorites are TARTE's Lights, Camera, Lashes (or Splashes for Waterproof), KAT VON D (sephora), POP Beauty Lash Wow (or Lash Kapow for Waterproof), and TOO FACED Lash Glam. You can actually swim and sweat in Lights, Camera, Splashes or Lash Kapow (give them plenty of time to dry first) and these babies will not come off!
5. Waterproof Eyeliner (that's really waterproof) This is a tricky one. There are very few eye liners that are Vegan and made for the wetness of the eye, in the rim or on top, except for POP BEAUTY's INLINER. It comes in Blue (dark), Black, and Green (hazel). For the top of the lashline I recommend making a cute cat eye with STILAs new Sparkle Waterproof Liquid Eyeliner; this one will never disappoint and it will not move until you take it off. Urban Decay's metallic pencils are great but stay away from Zero (black)because it tends to smear when wet. What color is best for me you ask? I like Blues and Purples for green eyes, Copper and Bronze for Blue eyes, and either one for brown eyes. Experiment and have some fun this summer. Try a fun color on the inner rim, and black or a bronze on the upper lash line.
6. Tinted Moisturizer These will all most likely have an SPF, but you can never have too much. My favorite is TARTE's Smooth Operator SPF 20 natural tinted moisturizer. It comes in many colors and the coverage is medium light and just enough to even out skintone!
7. High Definition Setting Powder How do you know that it's high def? These translucent powders can be pressed or loose (I prefer pressed for me, loose for jobs) and they usually have a name like "Close up setting powder", or "No Show", or even "High Def". I prefer Smashbox Photo Set Finishing Powder with SPF 15 (you can never have too much SPF ladies!). This is an invisible setting powder that mattifies on contact without any powdery residue. Also, Too Faced has a great loose setting powder called Primed and Poreless with an awesome finish! For my own purse I like POP Beauty's No Show No Shine Compact Powder #2 (both at Ulta.com).
8. High Def Liquid Foundation Again you ask, what is high def? Some people say that it refers to products made for high definition film, tv, and photography. For us it just means that it doesn't show or collect on your skin! It must look seamless and natural. Keep in mind, to produce a natural effect you need to wear primer underneath any foundation! I have several favorites, so here goes: Laura Mercier Oil free or Moisturizing Liquid Foundation, Too Faced Close Up liquid foundation, and CARGO's Blue Ray (cute name)Powder Foundation are my faves.
9. A nice Bronzer This is so much fun for your whole face! There are more brands than I care to mention, but go to an Ulta or Sephora store and try them on to choose for yourself. I recommend something mineral based and paraben free. Some have a shiny metallic finish, some are matte or waterproof, and some are semi-matte with a little glow (I like a multicolored bronzer with pink, peach, and mocha brown myself). Remember that bronzers can be worn on your eyelids too instead of eye shadow! Easy Peasy!
10. A Hydrating, Sexy Lipcolor in Peach, Nude, or Pink My new favorite is Bare Escentuals Pretty Amazing lip color…OMG this is the creamiest, sexiest lipcolor imaginable! Free Will is the best Nude I've ever seen, but there are other great colors too. This product is a cross between a lipstick and a gloss with high pigment, safe ingredients, high shine, and it's longwearing! Love!
HAVE AN AWESOME AND GORGEOUS SUMMER!!!
Love,
Victoria