Moroccanoil, the fast-track luxury Argan oil hair product pioneer and leader, sponsored what could be the season's most exciting beauty book launch last week for celebrity stylist Robert Vetica's new "Good To Great Hair." (Fair Winds Publishing).
Hosted by Salma Hayek, the star-filled beauty bash filled Eva Longoria-Parker's restaurant, Beso, to capacity. Hollywood's leading celebrity hair stylists, make-up artists, fashion stylists were in attendance, as well as Debra Messing, film star Maggie Q, Slumdog Millionare's Anil Kapoor, Melissa George of Grey's Anatomy, Rose McGowan and Moroccanoil's Carmen and Ofer Tal.

Debra Messing, Carmen Tal, Robert Vetica and Salma Hayek at the "Good to Great Hair" Book launch party. Photo © Amy Graves for Moroccanoil.
To cap the high-energy evening, multi-platinum-winning recording artist Anastacia gave an exciting performance that had guests, VIPs, and media on their feet and cheering.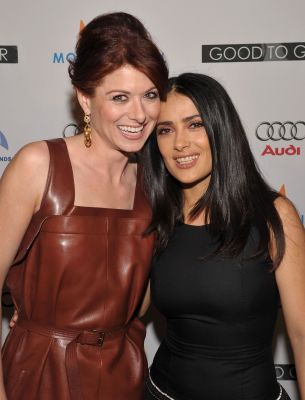 Debra Messing & Salma Hayek at "Good to Great Hair" Book Launch Party.
image via: MahaloFashion.com
Before the performance, Vetica said, "The success of this evening is a validation that our community of editorial hairdressers, make-up artists and fashion stylists is thriving and unmatched in what they do."
"In my interviews with top beauty editors, it became more and more evident that a book had to be written. I wanted to offer women more detailed directions on how to achieve beautiful hair with little effort. The book is full of trade secrets, and shares many of my own experiences in editorial and celebrity styling on the set."
In honor of Salma Hayek's participation in "Good to Great Hair", Fair Winds Press will make a donation in support of UNICEF's efforts to eliminate Maternal and Neonatal tetanus.
About Good To Great Hair by Robert Vetica Book: $24.99. Available at Barnes & Noble, Borders, Amazon and other stores where quality books are sold.
Top Star Stylist Robert Vetica's New Beauty Book Dishes on How Every Woman Can Create Day to Day Hollywood Hair Magic at Home. In His New Book Good to Great Hair.
"…Robert always gives me the perfect hairstyle for big nights out or an elegant fix for not-so-fun, badly-timed hair misadventures. This book should be in everyone's bathroom drawer." -Renée Zellweger.
With a foreword by adoring fan Salma Hayek and an intro by Debra Messing, plus rave reviews by A-listers Rene Zellweger, Avril Lavigne, Kyra Sedgwick, Naomi Watts and many more iconic beauties, star stylist Robert Vetica's sensational new book, Good to Great Hair is set to become the go-to beauty bible for every woman ready to have great hair, day after day. It's a fountain of insider information – an easy-to-follow beauty guide based on Robert Vetica's 25+ years of experience as well as his own formula for success to "keep it simple; work the basics." Vetica's unique, highly personal, clear-cut conversational style draws the reader in and keeps them engaged. The book's beautiful photographs by leading international fashion photographer Alberto Tolot shows readers each step of the way to amazing style.
Vetica believes every woman should personally benefit from the knowledge he gained working with some of the world's highest profile women, many of whom struggled with the same everyday style problems and challenges that he has solved on the set, at a moment's notice.
"I'd resigned myself to the fact that 50% of the time, during my non-professional life, I would look like a frizz ball. But after watching, learning and asking questions while Robert whipped up yet another masterpiece with my hair, I can now wake up knowing that I'll never have a bad hair day again." -Debra Messing.
What's Inside: Vetica's secret to haute coiffure: "simple…simple…simple." In his soon-to-be released, Good to Great Hair, Vetica's well-practiced basics are translated into uncomplicated "ABCs" that all women can incorporate into their daily routine in a matter of minutes – even if they think they don't have the knack. The result? Perfect hair every day – whether it's for the office, an interview, the mall or an event requiring a more sophisticated look, such as a party or a wedding. The Vetica way is to have every woman accomplish perfect, beautiful hairstyles as quickly, easily and inexpensively as possible.
 "Robert can make anything happen in any situation and in any amount of time."
-Avril Lavigne
"When Robert does my hair, I forget to look in the mirror."
-Naomi Watts
"Robert is a master of transformation
-Salma Hayek
Good to Great Hair is divided into three sections, The Essentials, Special Effects and Style Secrets, with each one building toward the finale. There are pages and pages of step-by-step styles with informative advice for every woman. It's all supported with beautiful how-to images with solutions for every hair type, length and texture.
Part I: THE ESSENTIALS: It's where great hair begins. Vetica analyzes and defines the reader's hair texture and its unique challenges as never seen before. Then he takes us into the secrets of today's most helpful products and essential tools of the trade.
Part II: SPECIAL EFFECTS: It's an adventure into the world of the Red Carpet with insight into special accessories, hair color and hair pieces.
Part III: STYLE SECRETS. It's Vetica's art of haircutting and hairstyling, with beautiful, crystal-clear, detail-by-detail images. This is his personal inside scoop on how to create celebrity hair styles with everything from faux hair to fabulous effects to innovative styling techniques pioneered by Vetica.
Vetica's goal in his remarkable new book is to make every reader's particular hair "listen up and behave." Along the way he shares his own successful method of how to create megawatt styles whether for strolling the red carpet, strutting the catwalk, or adventuring anywhere and everywhere. This Vetica insider is filled with incredible tips such as: what's in his styling and tool kits; how he uses his simple arsenal to create unforgettable looks for the red carpet and runways in 20 minutes flat; how he invents nip-and-tuck magic with small, hidden braids; how he disguises split ends and creates a stellar shine; how to transform lifeless hair into a lush, voluminous mane with the genius of clip-on extensions; how he saves time by refreshing a style – and not starting from scratch; along with extensive how-to guides.
All About Robert Vetica: The author is a fashion icon in his own right with more than 25 years of high-profile experiences in the hair world. He regularly styles the most beautiful celebrities in the world, including Salma Hayek, Debra Messing, Mariah Carey, Avril Lavigne, Shakira, Renée Zellweger, Hilary Swank, and Naomi Watts. Whether it's for the Academy Awards or major fashion magazines worldwide, Vetica uses innovative and imaginative techniques to make "the famous" look great with little effort and even less time. He is based in Los Angeles.