Motives by Loren Ridinger, a world leader in customized cosmetics, announced at Market America's World Conference in Miami that it has partnered with celebrated makeup artist Scott Barnes to create The Present, a limited edition collection of cosmetics designed by Barnes and sold exclusively on motivescosmetics.com.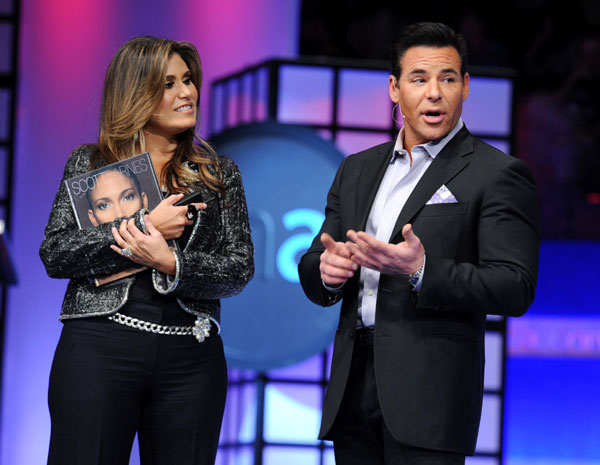 L to R: Loren Ridinger and Scott Barnes
Ridinger and Barnes unveiled the products to 25,000 attendees at Market America's annual World Conference event. The Present is an essential makeup kit that gives consumers all the products they need for any day or night look. The Present is designed to work well with all skin tones and contains four lip-glosses, four eye shadows, two blushes, translucent powder and four concealers.
"I am excited to partner with Scott and add some amazing new and exclusive products to motivescosmetics.com," said Ridinger. "Scott is one of the most talented people this industry has ever known and Market America's over 180,000 Customer Managers and 6 million customers are going to love the versatility and beautiful looks The Present delivers."
"It was a blast being on stage with Loren to present these beautiful new products at Market America's World Conference," said Barnes. "Since Loren launched Motives the line has certainly caught the cosmetic industries attention with its amazing customized color combinations and formulations. The Present is going to be an amazing product line that millions of consumers world-wide are going to love."
In addition to The Present, Ridinger and Barnes also announced that Barnes most coveted product, Body Bling, will also be available for purchase on motivescosmetics.com. Body Bling is a moisturizing, shimmering body lotion with a bronze base and golden highlights designed to give users an instant glow. Created to give the look of a tan without the harmful effects of the sun, Body Bling rinses off easily in the shower and is best used for any skin type.
For more information on Motives by Loren Ridinger visit www.motivescosmetics.com and be sure to check out Loren's blog myfashioncents.com where readers can learn about the best shopping deals on the Internet, get fashion and beauty advice, and stay updated on all the latest Loren Ridinger and Motives news. For more information on Scott Barnes visit www.scottbarnes.com.