From her love of diamonds and the men who gave them to her, to the classic roles that she immortalized on the silver screen, the glamorous Elizabeth Taylor was known for many things. In homage to the violet eyed Hollywood icon, Napoleon Perdis reflects upon the lasting legend of this timeless beauty and offers a way to celebrate her glamorous looks.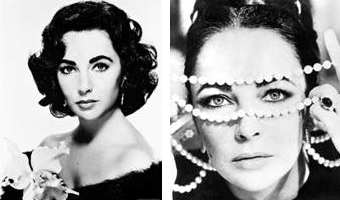 Elizabeth Taylor
"I was deeply saddened by the news of Elizabeth Taylor's passing. The legendary icon has always been a personal idol of mine. Her style epitomized that Old Hollywood glamour, and she's been the driving influence behind many of my campaigns and collections. Her arresting violet eyes, signature alluring red lips and strong brows captivated the world. She always knew the power of a sultry winged eye liner!"
I remember my mother introducing me to the silver screen star in the film 'A Place in the Sun', and I recall my father affectionately dubbing my mother 'Elizabeth Taylor' for their similar tastes in fashion and makeup. Beauty icon, tireless advocate and phenomenal actress – Elizabeth will truly be missed by all. I will be watching Cleopatra in remembrance of the great dame. "– NAPOLEON PERDIS
For those interested in keeping her spirit alive, Napoleon presents the Legendary Liz Taylor Look:
· Red Lips
Devine Goddess Lipstick ($22) in Xenia
Napoleon's Tip – Apply your lipstick and then use a pencil to line around the edges. The liner will glide on more smoothly, leaving a more natural outline but still preventing the lip color from bleeding
· Violet Eyes
Color Disc in High Voltage Violet ($25)
Napoleon's Tip – Before applying to lids, prep the base with a concealer to guarantee color longevity; always use an eye shadow brush to evenly distribute onto the eyes for minimal fallout
· Black Eyeliner
Napoleon Perdis Neo Noir Eyeliner ($20)
Napoleon's Tip – Use it to create an exaggerated cat eye, or make a subtler statement. The super soft applicator tip means mistake proof lining, while the intense black color is buildable for more drama at night
All of the products can be found at Ulta Stores and NapoleonPerdis.com.