Spring 2012 NYC Fashion Week. Makeup by Dick Page, Shiseido Artistic Director.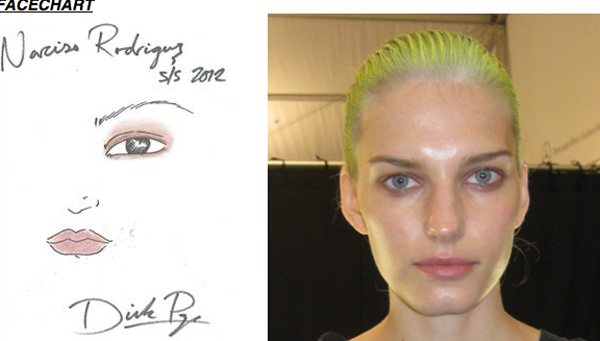 Shiseido Backstage At Spring 2012 Narciso Rodriguez
INSPIRATION/THEME: The makeup look was inspired by the Spring 2012 Narciso Rodriguez collection. Dick Page described the makeup as "intensely monochromatic."
FACE
Dick applied a wash of foundation to create a natural, "nothing-y" base.
No concealer or cheek color was used.
EYES
Using a soft brown-hued prototype cream base that is being formulated for a future Shiseido Makeup Shimmering Cream Eye Color, Dick took a fluff brush and blended the cream onto the upper and lower areas of the eyes—making sure the color was diffused. *Please note that there was no shimmering or pearlescent effect in this prototype cream. It is a matte base that will later be formulated with shimmer. Launch date is to be determined.
No mascara or eyeliner was used.
A custom brow was created for each model by mixing together the Shiseido Makeup Shimmering Cream Eye Color in Sable (BR709), Caviar (BK912) and Leather (BR306) and applying the combination with a clean brush to finish the eye look.
LIPS:
Dick blended the same prototype cream base color he used on the eyes with the Shiseido Makeup Shimmering Rouge Lipstick in Discretion (RD713) to create the lip look. He diffused both shades with his finger to create a well-blended, soft shimmering effect. Dick described the lips as a "shimmer version of the eye."