Getting the perfect summer glow is easier than you think. Cindy Rodriguez, Head Artist at the NARS boutique in NYC suggests using the Orgasm Illuminator, to complement any makeup routine. Now through July 2011, visit the NARS boutique (413 Bleecker Street in NYC) and receive a full-size Orgasm Illuminator!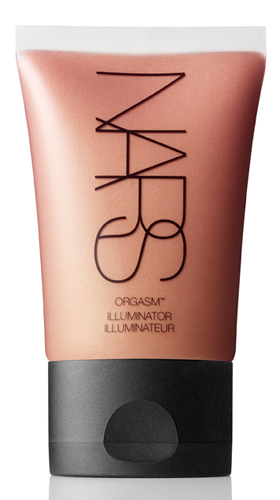 Once you have your Orgasm Illuminator in-hand, experiment with one of Cindy's tips:
1. To give your skin a warm glow, mix Orgasm Illuminator with your foundation. If you're not a foundation wearer, mix Orgasm Illuminator with your moisturizer for a natural radiance.
2. For a great nighttime look, apply Orgasm Illuminator to the apples of the cheeks with your fingers, and let dry (for about 30 seconds). Follow with Super Orgasm blush on top.
3. Use Orgasm Illuminator as the finishing touch to any makeup look. Apply it to the cheekbones, brow bone and cupid's bow of mouth for a beautifully subtle highlight.
4. Highlight the planes of your body by applying Orgasm Illuminator on your collar bones, shoulders, and shins.
5. For the ultimate orgasmic statement, layer your Orgasms! Start with a sheer application of Orgasm Blush followed by Orgasm Illuminator on the apples of your cheeks. Use your ring finger, for a more controlled application.
Don't forget to stop by the NARS boutique at 413 Bleecker Street, New York, NY 10014, 646.459.2323 to receive your Orgasm Illuminator!