GET THE LOOK: Nicole Kidman's hairstyle at the 2010 SAG Awards
Celebrity hairdresser David Babaii achieved Nicole Kidman's red carpet look by combining eras of vintage fabric textures with the perfect epoch red hair color. According to David, "Nicole Kidman always inspires me but for the 2010 SAG Awards, her beautiful skin tone and breathtaking beauty took the lead. The right style and hair color became my main objective." David fell in love with this unique period wig that had various tones of ginger.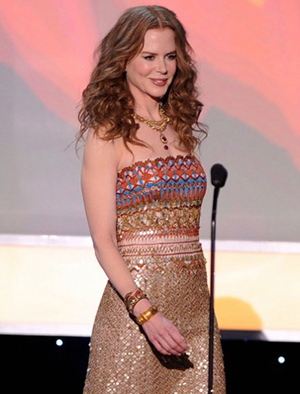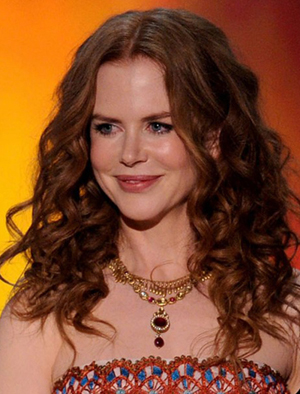 In order to achieve the perfect color match, David sought out the master talents of celebrity hair colorist Lorri Goddard-Clark. Lorri created Nicole's rich new color, while David created the perfect texture needed to enhance this natural but classic "Bohemian" look.
The Color: Lorri Goddard-Clark matched the vintage wig selected by David Babaii by utilizing a combination of deposit-only color, her signature foil-out reverse highlighting technique and a sulfate-free glaze. Nicole's hair was transformed from a medium blonde into a rich, warm Gingered Toffee Red to enhance her azure eyes and porcelain skin.
According to Lorri, "It was truly an honor to work with David: he is a genius. I was thrilled to collaborate with him on this look for Nicole Kidman."
The Style: David gently towel dried the hair and sprayed Bohemian Beach Spray throughout. Next, he gently rough dried the hair moving his hands in various directions to create texture. Once dry, he fashioned a center part and divided tresses into 4 sections (sides, back crown & nape). Starting at the nape area, he alternated between 1″ and 1 ½" ceramic curling irons, taking "V" shaped partings. He then wrapped hair around the inside of the barrel, holding for 10 seconds then gently releasing the curl. With each alternating curl, David slid his fingers up the curl to gently create a soft back combing effect and enhanced texture. After finishing the entire head, David used his fingers and added extra Bohemian Beach Spray to loosen the curls and highlight the richness of the hair color.
Nicole Kidman's dress at the 2010 SAG Awards was Oscar De La Renta. Marta Walsh says: Great dress, just NOT on Kidman. I didn't like how the red hair color matched the dress. It was too much. I love you Oscar though, and you Nicole:)
For additional details on the David Babaii haircare products mentioned in this post visit www.db4wildaid.com