The inspiration celebrity hairstylist David Babaii used in creating this years' 2011 Golden Globes red carpet looks for both Nicole Kidman and Sandra Bullock drew from vintage hairstyles from the 60's and 70's. His predictions for this years' award season is the use of natural textures and waves, creating healthy and shiny hair while simplifying how to get the look by using only 1 product and the finest styling tools.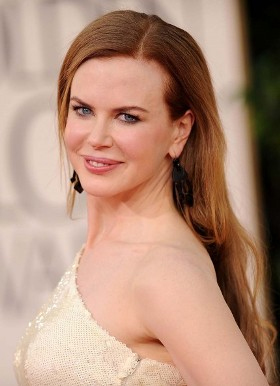 Nicole Kidman
Celebrity hairstylist David Babaii created Nicole's look with a 70's feel. To achieve this look, he applied a small amount Couture Colour Pequi Oil Treatment (David is the first to use this "new" product: available March 2011) to her damp hair. David created a full side part and sectioned the hair for control. His favorite method is to divide the head into 4 sections (top, sides, back leaving the nape area your starting point). With the finest Italian made blow dryer by IT&LY HAIRFASHION and a medium round brush, David wanted to demonstrate that you can achieve straight hair while infusing volume by using only a blow dryer. After drying each section straight, he applied an additional amount of Couture Colour Pequi Oil Treatment to the lower portion of her hair. He divided the strands into 6 large sections and wrapping each one around a round brush. Each section was given a blast of hot air to create the curl followed by a shot of cool air to set the curl in place. Gently he released the curl creating soft defined waves.
Sandra Bullock
The 60's took the lead on Sandra Bullock's look with creating a full bang and textured ends. Celebrity hairstylist David Babaii applied a small amount Couture Colour Pequi Oil Treatment to her damp hair. After blow drying her hair straight with a paddle brush, David sectioned the hair separating the bang area first then clipping the sides and back. Starting at the nape he re-applied an additional amount of Couture Colour Pequi Oil Treatment to each section creating the maximum amount of shine while flat ironing the hair completely straight with IT&LY HAIRFASHION'S Digital Flat Iron. Using a digital control allows the proper temperature to achieve the best results. For the bang area, he flat ironed them by turning the iron slightly under creating a soft cupping affect. To finish he applied some of the oil to his hands warming slightly and running his hands over the top to smooth fly-a-ways and define the piecey texture to the ends.
About Couture Colour Pequi Oil Treatment:
Derived from the Pequi fruit, known for centuries as the beauty secret of the Amazon Rainforest comes Pequi Oil Treatment. It is rich in moisture-restoring anti-oxidants; Vitamin A, E, proteins and lipids, reviving even the driest, color treated, and chemically straightened hair while keeping color vibrant with a special UV filter. This treatment also tames frizz, mends split ends, and gives incredible softness and shine. Instantly absorbing Pequi Oil won't weigh hair down. Perfect for all hair types, this alcohol free formula can be used every day.