Introducing Olay Smooth Finish Facial Hair Removal Duo, make sure to read all user comments on the Olay website to get more feedback about the product. What I liked about the products is that it's smells pleasant, in fact, I haven't noticed any perfumes. It's gentle. I wonder if Olay will come up with a formula for a more coarse hair type formula for stubbron hair. The re-growth didn't feel like shaving, meaning the hair was soft and not coarse, and that's a major plus.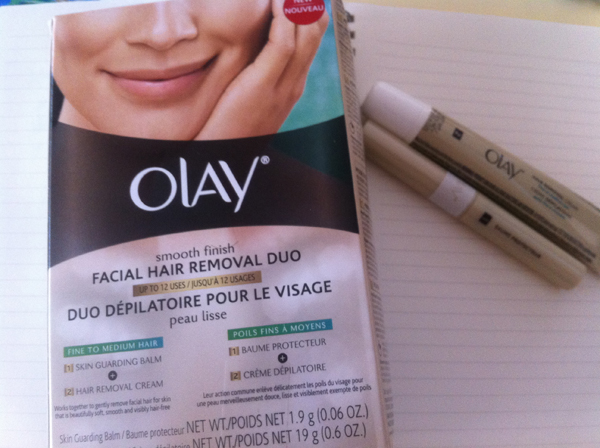 Olay Smooth Finish Facial Hair Removal Duo 1 Kit…
Via OLAY website: a specially formulated two-step system designed to gently yet effectively remove fine to medium unwanted facial hair on the upper lip and jaw line, while minimizing irritation. 3 months of smooth, visibly hair-free skin in 1 box (12 upper lip treatments).
48 Hours Prior To Every Use: Read and follow warnings and directions carefully. Conduct 48-hour skin reaction test.
STEP 1: PREPARE YOUR SKIN
Apply Skin Guarding Balm
First, lightly swipe the Skin Guarding Balm only once across the middle of the areas you wish to treat. Important: apply a thin layer to ensure effective hair removal.
Massage Skin Guarding Balm
Use your fingers to massage the Skin Guarding Balm into your skin, going beyond the area you wish to treat. Massage for 20 seconds in a circular motion.
Effective massage ensures there is a thin layer to keep the Hair Removal Cream from coming in direct contact with your skin, while ensuring the balm doesn't overly coat any hairs you want to remove.
STEP 2: REMOVE THE HAIR
Apply Hair Removal Cream
Squeeze the Hair Removal Cream onto your fingertip (small grape size for upper lip treatment) and immediately smooth over the area to be treated (on top of the balm), covering it completely with a thick layer. Do not rub it in. Use only with the Skin Guarding Balm provided.
Wash hands immediately and thoroughly. Wait for 6-8 minutes. Leave on longer for thicker hair, but do not exceed 10 minutes.
Remove Hair/Cream
After 6-8 minutes, gently remove cream with a tissue or cotton ball (do not rub excessively). Rinse your skin thoroughly with lukewarm water and pat dry.
***The above post is a sponsored post and the product was provided to TalkingMakeup.com by OLAY***