Parfums Givenchy is pleased to announce the grand-opening of its only stand-alone retail location in the United States on September 22, 2010. The 400 sq. ft. shop will be located at the France Pavilion in Epcot® at the Walt Disney World® Resort and will house the full range of Givenchy Le Makeup, Skincare and Fragrances.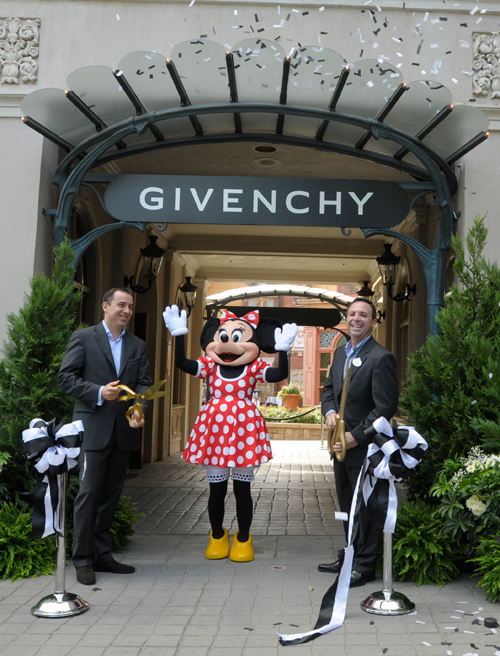 Photo provided by Parfums Givenchy, J.C. Gandon, left, General Manager USA, Parfums Givenchy, and Carlos Castro, right, VP Corporate Alliances, The Walt Disney Company, celebrate the opening of Givenchy's new boutique with Minnie Mouse in the France Pavilion at Epcot at the Walt Disney World Resort in Lake Buena Vista, Fla., Wednesday, Sept. 22, 2010. The new boutique is the only retail location in the United States to carry the full line of fragrances, cosmetics and skincare. (AP Photo/Givenchy Parfums, Phelan M. Ebenhack, HO)
From September 30 – October 3, a special event will be held celebrating the opening of the boutique. Guests will have the opportunity to fully experience chic services and products from Givenchy with makeup artists and fragrance specialists. This special event will feature exclusive products available only at Epcot®.
"We are thrilled to open our full-range boutique of Fragrances and Cosmetics in the France Pavilion in Epcot®." said Jean-Christophe Gandon, General Manager of Parfums Givenchy, Kenzo and Emilio Pucci Fragrance "This is the only place in the United States where the entire range of Givenchy Fragrances, Skincare and Make-up will be available under one roof. We think that Epcot and Givenchy both share the same mission to celebrate innovation and provide an outstanding experience to the consumer. I really believe this new boutique will soon become a favorite among visitors to the France Pavilion in Epcot®."
Parfums Givenchy was born out of the encounter between Hubert de Givenchy and Audrey Hepburn, which led to the first fragrance, L'Interdit, in 1957. Givenchy infused a style with light-hearted sophistication that would mark the spirit of the house's creations forever. A pioneer with the launch of the first men's fragrances in the late fifties, at a time when men were just beginning to discover the pleasures of perfume, Givenchy imposed a style. Today, Parfums Givenchy has a roster of modern muses like Liv Tyler, Uma Thurman and Justin Timberlake and star products like Phenomen'Eyes mascara. Givenchy fragrances, cosmetics and skincare are a precious as Couture –with seemingly personalized formulas that are modern in innovation and high in performance. They're a blend of French-style elegance with American-style spontaneity, plus a touch of something very chic, very irresistible and very Givenchy.