Summer color is exhilarating at Prescriptives. Introducing Prescriptives Summer 2009 Color Collection. Available beginning May 2009 at Prescriptives counters nationwide, exclusively at Holt Renfrew in Canada and www.prescriptives.com
This summer, invigorate your senses with the exhilarating new shades from Prescriptives Summer 2009 Color Collection inspired by the classic Calyx fragrance. Exhilarating is a fresh collection of vibrant and energizing tones in vivid palettes of tropical fruits, icy citrus and playful florals. Sweep lids in tropical shades of shimmering yellow, sparkling teal and bright green. Enliven lips with a pop of color then layer them with a flavorful guava gloss in mango, pink grapefruit and guava shades. Finish it off with a sheer spritz of fruity top notes and smooth woods. Feel exhilarating with Prescriptives.
Prescriptives Summer 2009 Color Collection includes:
Calyx Sheer Exhilaration Limited Edition: This limited edition all-over fragrance is a light, refreshing form of the original Calyx. It is a mix of exotic fruits, lush flowers and smooth woods. Fragrance notes include: passion fruit, mango, guava, lily, jasmine sandalwood and vetiver. SRP: $38.50/$50.00 Canada.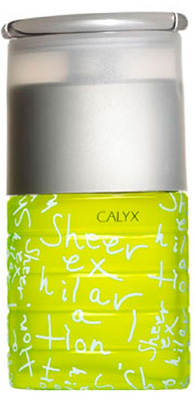 Calyx Exhilarating Lip Gloss: Get sheer coverage that is ultra-glossy and non-sticky with these guava flavored glosses.  The lightweight, sheer, comfortable formula is packaged in the classic Calyx graffiti and comes in three limited edition shades inspired by Calyx's citrus notes. Shades: New Mango (Warm). New Pink Grapefruit (cool). New Guava (Neutral). SRP: $14.50 U.S./$20.00 Canada
Exhilarating Lipcolor Limited Edition: Lips will love this luminous, lightweight formula that gives lips a pop of color and leave them shiny and comfortable. Packaged in an eye-catching Calyx green case, this lipcolor delivers sheer to medium coverage in bold and bright shades. Shades: New Nectarine (Y/O). New Papaya (R/O). New Strawberry (R). New Raspberry (B/R)/. SRP: $17.50 U.S/$26.00 Canada.
U-Pick Eye Color Limited Edition: This long wearing wash of silky, smooth color adds high impact dimension. Create vibrant, flirtatious eyes with three new shades: New Lemondrop (Warm), New Calyx Green (Warm), New Teal (Cool), Chiffon (Cool), cobalt (Cool), and Caviar (Warm). SRP: U-Pick Eye Color $14.00 U.S./$20.00 Canada. U-Pick Compacts $3.00-$6.50 U.S./$4.00-$8.50 Canada.

Prescriptives 'U-Pick' Refillable Compact (Large).

Prescriptives 'U-Pick' Refillable Compact (Medium).

Prescriptives 'U-Pick' Compact (Small).