Introducing the NEW Prevage Face by Elizabeth Arden!
Elizabeth Arden's best-selling anti-aging formula, with acclaimed antioxidant Idebenone, is taking anti-aging to a whole new level! PREVAGE Face Advanced Anti-aging Serum is one of this year's biggest launches for Elizabeth Arden.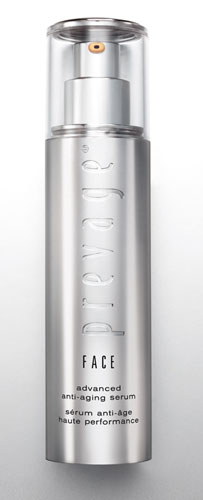 According to Elizabeth Arden: Idebenone is proven to be the most powerful antioxidant and the ONLY antioxidant to receive the highest EPF rating of 95 out of 100. It can act on all three levels of free radical damage, working deep within the surface layers of the skin to restore skin cells. The new formula delivers Idebenone to the skin in a new way that advances its protective, preventive and corrective benefits.
With Idebenone delivered in a new way, PREVAGE Face Advanced Anti-aging Serum addresses major skincare concerns, such as: Fine lines, wrinkles, age spots and discolorations appear reduced. Redness, minor scars and existing sun damage look minimized.
Available from January 2010 at your nearest Elizabeth Arden retail location, and on www.elizabetharden.com Price: $155.00/ 1.7 fl. oz.