Pure Color Night is Limited Edition makeup collection created by Tom Pecheux, Creative Makeup Director, Estée Lauder. Available Exclusively in Paris.
"I wanted to create the iconic French makeup look; the black smokey eye, dewy skin and kissable lip."-Tom Pecheux, Creative Makeup Director, Estée Lauder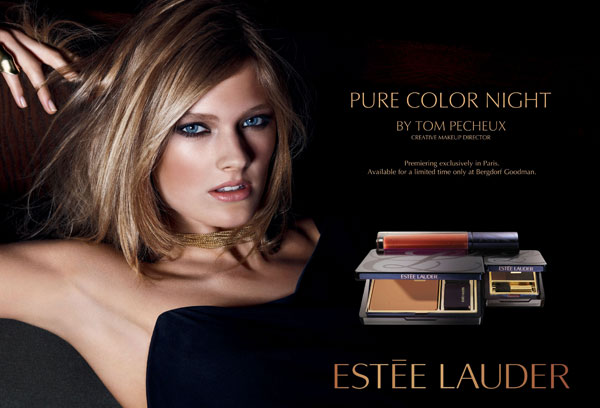 In November 2009, Estée Lauder named world-renowned makeup artist Tom Pecheux Creative Makeup Director. His first challenge: to create a beauty concept that links iconic French beauty with an iconic American beauty brand.
"As a makeup artist, I am known for making women look beautiful, sensual and sexy," said Pecheux. "When given the challenge to create a collection exclusively for Paris, I thought it would be perfect to create a nighttime look, because this is when every French woman wants to look her most beautiful. I wanted to translate the seductiveness and femininity of French women into makeup."
According to Pecheux, Pure Color Night is a collection of three must-have products to experience the chicest of Paris at night…from dusk to dawn.
"I wanted to create the ultimate in French sensuality and sexiness — black eyeshadow for a naughty, smokey eye; highlighter for a healthy glow and lips that men will not be afraid to kiss," said Pecheux.
Pure Color Ombre Effect EyeShadow in Naughty Black creates a smokey eye with smoldering impact. Featuring a textured trio of matte, shimmer and sparkle, these dramatic black/ brown shades can be used alone or together. $20.00
Pure Color Luminous Powder is an incredibly refined and lightweight powder with a luxurious creamy texture. The Highlight shade adds a sensual glow to skin making it look young, healthy and dewy. $40.00
Pure Color Lip Gelée in Kiss Me saturates lips with a nude rose tint, giving the mouth a just-bitten wet look. Water-like high shine polymers amplify the glass like finish, ensuring a coveted seductive pout. $20.00
The Pure Color Night Collection is housed in chic, blackened-blue packaging with the Estée Lauder cartouche engraved on each lid.
This chic limited edition collection announces the exciting collaboration between Tom Pecheux and Estée Lauder. Available for a limited time, beginning May 2010, in Paris at Bon Marché Rive Gauche, Galeries Lafayette Haussmann and Printemps Haussmann. Limited quantities will be available in New York at Bergdorf Goodman and in London at Selfridges Oxford Street.
Limited availability exclusively at Bergdorf Goodman in New York City in June 2010.
Pure Color Ombre Effect EyeShadow: $20.00
Pure Color Luminous Powder: $40.00
Pure Color Lip Gelée $20.00