Pureology introduces Hydrate LightCondition and HydraWhip.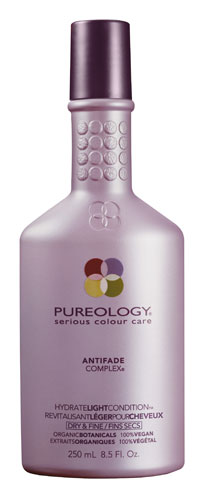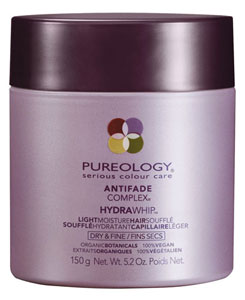 Fine hair is easily desiccated by daily aggressors and requires products that moisturize to nourish, soften and protect. Pureology Serious Colour Care welcomes two new products to the award winning Hydrate System, Hydrate LightCondition and Hydrate HydraWhip, created for fine colour-treated hair in need of moisture while protecting colour radiance. The new tingling-free, silky cream condition and velvet soft soufflé provide lightweight moisture for finer hair types and clients sensitive to menthol.
Many moisturizing products tend to be heavy on fine hair, making it limp and appear thinner and greasy. To address this need, Hydrate LightCondition and Hydrate HydraWhip provide moisture that will not weigh down hair, but provides nourishment to soften and protect using organic botanicals of peppermint, rosemary, sage, and green tea to provide condition and shine for light, naturally radiant and healthy hair. The exclusive AntiFadeComplex neutralizes free radicals to maximize colour retention.
The new Hydrate LightCondition contains Hydrating Micro-Emulsion Technology formulas to deliver moisture from within, improving hair condition. Natural jojoba and shea butters, with strengthening multi-weight proteins of soy, oat and wheat moisturize and restore suppleness without weighing down fine hair. Hydrate HydraWhip contains an emollient-rich soufflé with avocado, jojoba and shea butters to restore moisture and softness to fine colour-treated hair from root to tip.
The complete Hydrate system includes the following products:
– NEW Hydrate LightCondition
– NEW Hydrate HydraWhip
– HydrateShampoo
– HydrateCondition
– Hydrate HydraCure
– Hydrate ShineMax
Marta Walsh says: "Pureology Hydrate hair care line is one of the best hair care collections out there, their products work every time."