Pureology Serious Color Care, the pioneer in ZeroSulfate shampoos, is working towards a more sustainable future and is proud to continue its support of Global Green USA, the U.S. affiliate of Green Cross International. Founded in 1994, Global Green's mission is to help solve the world's most pressing environmental challenges. Pureology will be offering the Hydrate To Make a Difference promotion featuring the best selling Hydrate System (March – June 2010 in salons).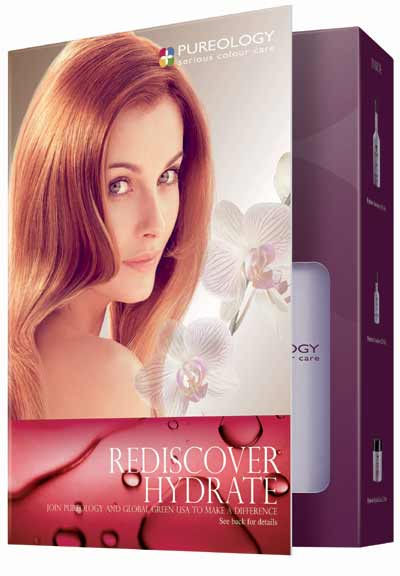 "Pureology is excited to continue its ongoing support of Global Green USA and will make a $20,000 donation in conjunction with these promotions," states Kirsten Marsh, Assistant Vice President of US Marketing for Pureology. "Additionally, consumers will receive $10 off their PureGreen Membership from March 1 – June 30, 2010, with this promotion. PureGreen Members receive a subscription to Global Green USA's Quarterly e-newsletter, Global Green USA pin, and personalized Global Green USA membership card."
Hydrate to Make a Difference
Pamper your hair with Pureology's award-winning, moisturizing, super-concentrated Hydrate Shampoo. This extra gentle, non-colour stripping, ZeroSulfate formula enhances colour brilliance and maximizes colour retention.
Hydrate Shampoo 10.1 oz
Hydrate HydraCure Intense Moisture Masque 5.2 oz
Hydrate Condition 2.0 oz
Available March – June, 2010, in Salons at $54.00