I can't contain my excitement about this latest beauty idea: Q-tips Vanity Packs. It's about time Q-tips get a makeover because they deserve it. Q-tips are a must-have beauty product in any bathroom, and they are so versatile. You can use Q-tips to clear your ears, take off eye makeup, correct makeup, and apply an acne treatment on that specific breakout spot.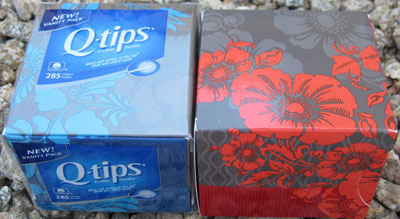 With Q-tips Vanity Packs your Q-tips gets love, but you also look smart! I want to meet the creative  team who came up with the beautiful designs for the Q-tips Vanity Packs and thank them. They can accentuate any bathroom, and take it from drab to glam. Who knew Q-tips Vanity Packs could do all that. There is definitely a new era in my bathroom:)
Celebrity makeup artist Troy Jensen (Troy does makeup for Kim Kardashian), shares top tips fro rescuing any beauty routine:
 "You don't have to be a celebrity to look flawless…whether you are on the red-carpet or running to dinner, Q-tips can rescue your beauty routine by touching up everything from runny mascara to smeared eye shadow! Q-tips are an excellent alternative to using a makeup brushes-they provide precise makeup application, are great for softening the season's bright colors and safe for delicate skin around the eyes."
Tips from Celebrity makeup artist Mally Roncal:
"Give your eye shadow a vacation! think outside the box and try a bold plum of teal eyeliner to line your upper lashes. Use Q-tips cotton swab to blend the lines for a soft, modern look. Looking for even more color? Q-tips new beautifully designed Vanity Packs can help rescue your vanity area while bringing a welcome splash of color!"
About the Author
I am one of the top fashion and beauty bloggers in the world also a Luxury Paradise Valley and Scottsdale REALTOR with Russ Lyon Sotheby's International Realty.