The AMOREPACIFIC's Time Response Single Ampoule will be featured on The Rachael Ray Show tomorrow morning, December 23, 2009,  as one of Rachael's favorite products and holiday pick! In honor of it being one of Rachael's favorite products, Talking Makeup would love to give Rachael's AMOREPACIFIC pick to one lucky reader (a $150 value!!!) With all the hustle and bustle of the holiday season – this is the perfect product to completely revive the skin by utilizing antioxidant-rich green tea from AMOREPACIFIC's own green tea gardens.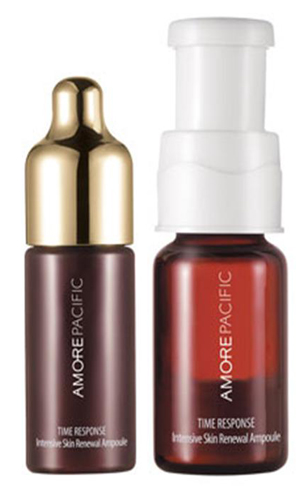 To Enter to WIN: Please leave a message below and let Talking Makeup know why you would love to try these products. Good luck:)
About AMOREPACIFIC's Time Response Single Ampoule: A concentrated dose of skin-renewing, age-correcting Asian botanicals. After a season of revelry, depleted skin requires intensive treatment to restore volume, density and elasticity. Revitalize skin for the New Year with AMOREPACIFIC TIME RESPONSE Intensive Skin Renewal Ampoules, potent single-dose infusions of indigenous Asian botanicals hand selected to soothe and smooth skin as they correct, protect and renew. The intense, full-immersion therapy effectively responds to all signs of time on the skin due to age, stress, and a fast-paced lifestyle. With the deeply moisturizing, de-aging benefits of AMOREPACIFIC's nutrient-rich ampoules, you can effectively prevent and repair damage to restore even the most sensitive skin to its optimal state of firmness and resilience.
TIME RESPONSE Intensive Skin Renewal Ampoules rapidly reduce lines, wrinkles, uneven pigmentation and sun damage while instantly improving radiance, texture and luminosity. Moisture-rich first-harvest Green Tea hand-cultivated in AMOREPACIFIC's own gardens soothes and deeply hydrates the skin as EGCG, the rarest and most potent polyphenol of the green tea plant, stimulates new skin cell production and counteracts environmental damage. The powerful ampoules employ Korean Red Ginseng cultivated for six years to provide superior energizing anti-aging benefits while ultra-hydrating Bamboo Sap protects and replenishes the complexion.
The oil-free ampoules are ideal for a broad range of skin types, from younger skin that only requires preventive anti-aging care to more mature skin that demands both prevention and repair. TIME RESPONSE Intensive Skin Renewal Ampoules boost overall skin function and appearance by stimulating cell renewal as well as collagen, elastin and hyaluronic acid synthesis. In addition to Theanine, the ampoules include Licorice, Strawberry, Begonia and Mulberry to counteract discoloration and uneven pigmentation.
WHAT THEY COST: $150 for a single ampoule
Available at: Select Neiman Marcus stores (888.888.4757 and www.neimanmarcus.com ); Bergdorf Goodman (212.872.2770 and www.bergdorfgoodman.com ); and at the AMOREPACIFIC Beauty Gallery and Spa in New York City, 212.966.0400.