Rachel McAdams Oscars 2010: The Hairstyle
For Hollywood's biggest night of the year, Sebastian Stylist Design Team Member Thomas Dunkin styled actress Rachel McAdams' tresses to complement her pastel watercolor-print strapless couture gown. The voluminous texture of Rachel's bun evoked a spring-time look that is effortlessly chic and breathtakingly beautiful.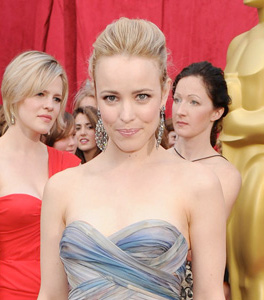 Hair Tutorial: Thomas shares styling tips for recreating Rachel's red carpet look at home
1) Start by applying Sebastian Professional Liquid Gloss to slightly damp hair.
2) Blow dry hair straight with a large round bristle brush to give hair a smooth, polished base and voluminous texture from which to start styling.
3) Brush hair back and put in a ponytail just above the occipital bone. Secure with bobby pins.
4) Backcomb the ponytail and start to smooth the hair under using Sebastian Professional Re-Shaper hairspray, securing with bobby pins. Do this until all of the hair is tucked under and secured.
5) Apply Sebastian Professional Craft Clay to the top and sides of the head for a textured effect rather than a perfectly-groomed finish.
6) Finish the look with Sebastian Professional Re-Shaper hairspray and gently massage the whole look to give it a disheveled, modern feel.
For more information on Sebastian Professional please visit www.sebastianprofessional.com.