Rachel McAdams in CHANEL Beauté at the 82nd Annual Academy Awards.
Beauty Inspiration: "We chose our colour palette based on the water colour look of Rachel's dress. There was a wash of cool tones in the dress, blue, green, purple, pink so we wanted the eye, cheek and lips to all have this same water colour sheerness to it."-Makeup Artist Kayleen McAdams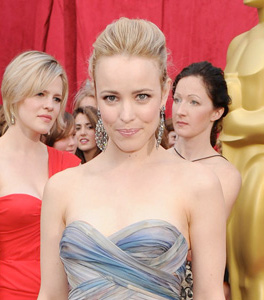 How to get Rachel McAdams Oscars 2010 Makeup Look:
For Rachel's eyes, Kayleen used a combination of grey and pink shades. On the lid, she used CHANEL Fluid Iridescent Eyeshadow in Fountain. She kept the grey on the outer corners of the lid and underneath the eye. She used the rose gold shade in the CHANEL Quadra Eyeshadow in Spices up to the brown bone and along the lid.
To finish it off, Kayleen used CHANEL Soft Touch Eye Shadow in Slate in the inner corners of the eye, and followed up with two coats of CHANEL Inimitable Mascara in Noir. She kept the lips very simple with CHANEL Rouge Coco Lip Colour in Rose Comete, a beautiful light pink shade, and a bit of CHANEL Glossimer in Futile to accentuate the lips but keep the focus on the eyes.