Every now and again my hair seems to feel dry, distressed, and overworked and in need for some help. It happens to the best of us. This morning I used Redken extreme shampoo and NEW Redken extreme strength bulder plus fortifying mask, and anti-snap leave-in treatment for distressed hair. These hair care products made my hair feel like silk. Wow. It's not an oily treatment which sometimes I find to weigh down my hair. It's an intense protein and ceramide treatment. Not greasy at all just silky.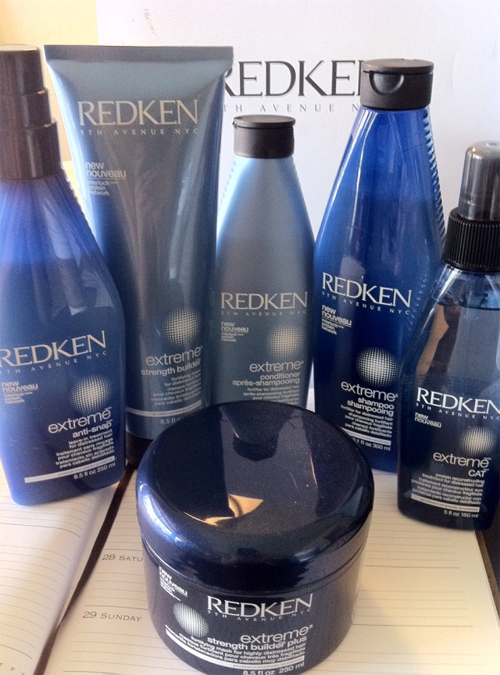 Redken extreme Hair care Line
Did you know that: " Redken was the first brand to introduce protein into professional haicare in the 60's..and now, Redken unvails a new generation of protein science with the dual-patnted Fotfying Complex and Interlock Protein Network, enebling penetration of the hair shaft more than ever before"-Dr. David Cannell, Redken's R&D expert.
Redken extreme Hair care Line L to R (image above):
New & Improved anti-snap leave-in treatment-provides heat protection and reduces friction from brushing and helps prevent breakage and spilt ends.
NEW extreme Strength Builder fortifying rinse-out mask
extreme conditioner
extreme shampoo
extreme CAT protein reconstructing treatment
NEW extreme strength builder plus fortifying rinse out mask (this stuff is amazing!!) which contains the highest level of ceramide in the range to provide intense repiar, conditioning and strength to the core of higly distressed hair (bleached hair, dry hair, color treated hair, over worked hair).
Redken's NEW  extreme Hair care regimen will be available in Redken salons begining May 2011 and Redken will roll-out the interlock protein network in the shampoo and conditioners of their best-selling All Soft, blonde glam, Body Full. Color Extend ranges throughout 2011.