Motions Celebrity Hair Stylist Ursula Stephen created Rihanna's hairstyle for the 2011 Grammy Awards.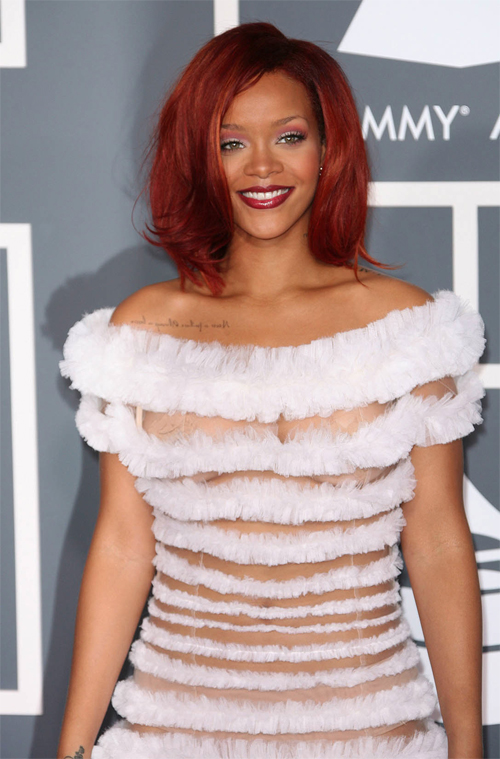 Rihanna's hairstyle:
"When Rihanna and I collaborate, we are always searching to recreate her image through her hair. First, I looked for a new red color and brought a variety of options to try but ultimately felt this one really stood out as the best.
Since we've recently done a lot of texture and length, we wanted to mix it up. While we talked about going shorter I wanted to try something a little newer on her than the sleek bob that you are used to seeing. As I began to cut, I realized a mid-length look was the route to go and a sexified, tousled, bouncy bob would look amazing. It's kind of the opposite of the larger curls and length we've done recently. As far as bobs go, it's a heavier look, not a lot of layers, just big, bouncy and sexy!"
Get Rihanna's hairdo:
Apply Motions Light Hold Working Spritz to provide control, but allows you to continue to work with heat tools.
Use a big curling iron to bevel the hair. "Bevel" is where to you use the curling iron in a similar way to a straightening iron. Don't "click, click, click," the iron down, but rather run it through the hair, smoothing it down and then curling the ends. Beveling the hair adds a bodiful curl, not too big and not too tight.
Pin the big round curls up and allow hair to cool, adding more body.
Let the hair down, again applying Motions Light Hold Working Spritz, and let the curls fall where they will. Help to style with your fingers so that the curls frame the face.
Finish by liberally spraying Motions Hold & Shine Styling Spray all over to lock in the look and add a glossy brilliance.