The vitaminwater house was the place to get fit, get pampered, get connected and get hydrated at the 2009 sundance film festival. The mega-mansion hosted screenings, yoga sessions with russell simmons, workouts with 50 cent, celebrity dinners, an exclusive midnight performance by 50 cent and g-unit with surprise appearances by Jim Carrey, Robin Thicke, dj AM and Chris Rock and star-studded after parties throughout the weekend.

Rapper 50 Cent attends the 50 Cent dinner held at the vitaminwater house during the 2009 Sundance Film Festival on January 17, 2009 in Park City Utah.
With continuous fires burning, beats spinning, food passed, drinks flowing, celebs chilling and good conversation (unlike the cluster*&% out on main street), the vitaminwater house was the ultimate destination at sundance this year.
Here are the celebrity guests who enjoyed color light therapy treatments at Green Valley's revive spa at the vitaminwater house.
Russell Simmons — After Russell Simmons led a yoga class at the vitaminwater house with his New York yoga guru, he enjoyed a Green Valley Spa rubdown and said the therapist was "The Shit!" He loved the natural products so much that he came back and grabbed an armful of Green Valley's Dinosaur Sea Salts that are wild-crafted from pure, fossilized minerals in the red rock canyon country of St. George, Utah (known as one of the country's top locations for dinosaur fossils).
Kim Kardashian — Kim toured the Green Valley Spa room after watching the football game with 50 Cent on Sunday. She oohed and awed over the lavish orange touches in the "Essential" Green Valley Suite — bouquets of flowers, a tub surrounded by orange slices and orange hydrangeas and beeswax candles scented with orange essence and a tub filled with Orange Fairy Dust from the spa. She loved her goodie bag filled with Green Valley's Good Medicine skincare products that are created at the spa using desert plants and flowers.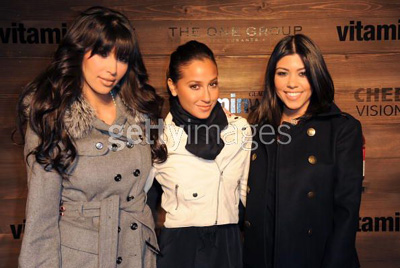 Kimberly Kardashian, Cheetah Girl Adrienne Ballion, and TV personality Kourtney Kardashian attend the 50 Cent dinner held at the vitaminwater house during the 2009 Sundance Film Festival on January 17, 2009 in Park City Utah.
Cuba Gooding Jr. — Got a rubdown from spa therapist Maryann, who is an amazing energy worker. Later when Cuba was walking by the therapist at the packed 50 Cent concert at the vitaminwater house, he did a double take and ran back to give Maryann a bear hug to thank her for the great massage.
Kyra Sedgwick — She said the idea of a hand reflexology treatment while waiting to be interviewed in the vitaminwater house media room was a great use of time. She loved visiting Green Valley Spa's private "Essential" suite.
Tom Arnold — Came into Green Valley Spa after the workout class with 50 Cent's trainer. He loved his treatment.
Bethany Frankel — She LOVED her massage and asked if she could come back for another before she left Sundance.
Kara Santana (CSI Miami) — Kara loved her Green Valley therapist so much said she would hook him up in L.A. to be a "set masseuse" because she'd never experienced anyone as good.
Other celebrities at Green Valley Spa treatments at the vitaminwater house at Sundance:

Director Spike Lee during the "Passing Strange" Lunch
at the vitaminwater House on January 16, 2009 in Park City, Utah.
Other celebrities to attend the Green Valley Spa treatments at the vitaminwater house at Sundance: Robin Thicke, Paris Hilton, Jim Carrey, Jenny Mccarthy, Chris Rock, Spike Lee, dj am, Wesley Snipes, Mekhi Phifer, Emma Roberts, Cuba Gooding jr, Benjamin Bratt, Kourtney Kardashian, Seth Green, Zoe Kravitz, Doutzen Kroes, dj Ruckus, Terrell Owens, Kim Porter, Nia Long, Chris Masterson, Brittany Snow, Leigh Lezark and the Misshapes, Alex Frost, Richie Rich, Ryan Locke, Sarah Larson, Adrienne Bailon, Tony Yayo, Lloyd Banks, whoo kid, Cara Santana, dj berrie, Kyle Massey, cmo of vitaminwater Rohan Oza and ceo of coca-cola enterprises John Brock.

Paris Hilton and Brittany Flickinger attend the 50 Cent dinner held at the vitaminwater house during the 2009 Sundance Film Festival on January 17, 2009 in Park City Utah.
About Green Valley Spa & Resort: one of the country's original luxury adventure spas, has thrived for two decades as a progressive center for spiritual and physical wellness. Green Valley offers dynamic hiking, biking and rock climbing through the red rock canyons of southwestern Utah, plus state-of-the-art tennis and golf schools and indoor and outdoor pools. Luxurious, suite-sized casitas with southwestern décor, plush pillow-top beds, fireplaces and private patios offer a dreamy haven from the resort's inspired fitness & wellness classes that range from cardio boxing and tai chi to healthy cooking classes and life coaching programs. (www.greenvalleyspa.com)
Hailed one of the "Top Ten Healthiest Spas in America" in the July 2008 issue of Health Magazine and the only AAA Four Diamond resort between Las Vegas and Salt Lake City, the 50-room Green Valley heals the body and soul with Native American spiritual wisdoms, daily meditation gatherings, weekly wellness seminars and soulful spa treatments indigenous to the mineral-rich desert landscape where mighty dinosaurs once roamed.
OWNERS: Alan & Carole Coombs. Real estate developer and wellness therapy expert combined their skills to create a high desert haven for the senses.
LOCATION: Nestled in the red rock country of St. George, Utah, which has its own airport. Closest international airports are Las Vegas, Nevada, and Salt Lake City, Utah.
Green Valley Spa & Resort
1871 West Canyon View Drive
St. George, UT 84770
1.800.237.1068 / 435.628.8060
www.greenvalleyspa.com
Images via: www.gettyimages.com & by Wire Image.