Sally Hansen has you covered with the Holiday Diamond Strength No-Chip Nail Color collection. These limited edition shades feature six colors that range from deep raspberry red to a tinsel-inspired sparkling glow. These limited edition shades are perfect for a deep, ruby nail or a festive and shimmery tinsel-inspired look. Each polish costs $4.75 and can be found in Drugstores nationwide.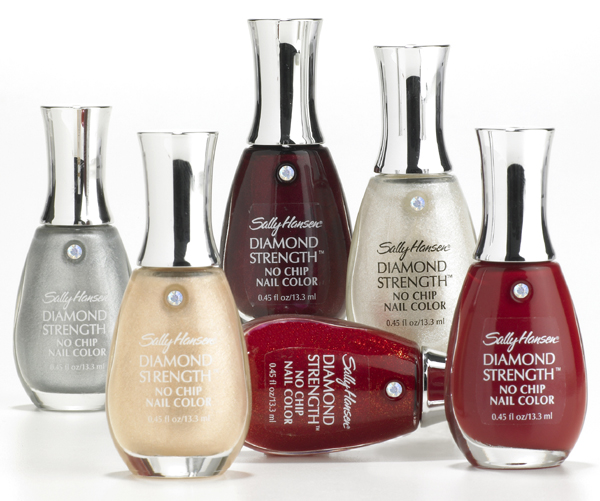 Sally Hansen Diamond Strength No Chip Nail Color, the nail enamel that helps stop nails from breaking . . . with a precedent-setting formula that contains real diamond particles to give nails diamond strength, diamond shine and diamond wear.
HOW IT WORKS: Diamond Strength – exclusive bio-marine protein formula instantly bonds with nails to help build and strengthen nail structure and encourage healthy nail growth. Diamond Shine – micro-diamond particles deliver a brilliant multi-faceted shine Diamond Wear – advanced nanotechnology makes nail color resistant to chipping and fading so it extends a manicure for up to ten days.
COLOR: Contemporary shades that glide on flawlessly for professional manicures.