Sneak Peek: The cover for the next V Magazine (issue #65) which hits newsstands Tuesday, May 11th, 2010: "The Summer Scorcher issue," starring gorgeous actress Scarlett Johansson. Scarlett stars in Iron Man 2 which opens in theaters today, May 7th, 2010. The 21st century starlet was shot by famed photographers Inez van Lamsweerde and Vinoodh Matadin, and discussed her transformation as a woman with the various challenges she has faced throughout her career as an actress.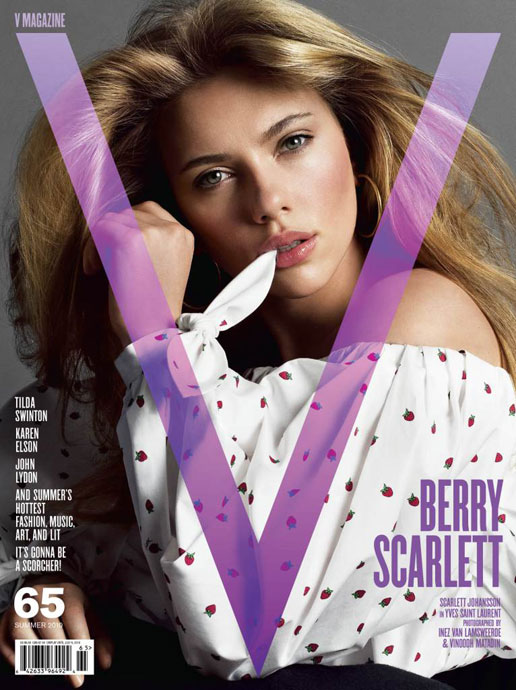 "Working with these incredible hair and makeup teams, you go in looking like a schmoe, and you come out like a movie star."-Scarlett Johansson
HOT FOR SCARLETT. Scarlett Johansson has proved that the road to Hollywood success could lead through the iTunes store, the Broadway stage, or an ad for Dolce & Gabbana. She's drawn the blueprint for the 21st century starlet in her own image. Styling by Joe McKenna. Text by Christopher Bartley.

Scarlett Johansson is in dress and belt Yves Saint Laurent Earrings Louis Vuitton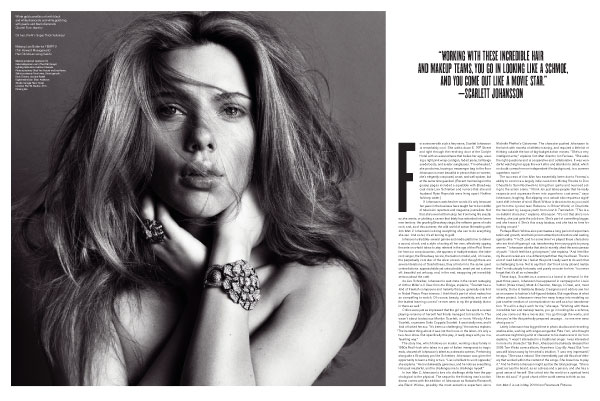 Scarlett Johansson in white gold camellia cuff with black and white diamonds and white gold ring with pearls and black diamonds Chanel Fine Jewelry. On hair, Kiehl's Super Thick Volumizer. Makeup Lisa Butler for TEMpTu (Tim Howard Management) Hair Christiaan using Kiehl's. Manicure Deborah Lippmann for Deborahlippmann.com (The Wall Group). Location pier 59 Studios, NYC printing Box.