shu uemura's new Cream Eye Shadow: Just dip your finger into shu uemura's new Cream Eye Shadow, the latest addition to the Japanese beauty brand's impressive catalogue of shadows, and discover your inner artist. This beautifully blendable and buildable silky cream shadow, offered in a kaleidoscope of colors, is a true makeup expert tool that is easy for anyone to create an array of stunning eye makeup designs. Just in time for summer, this waterproof formula will last from morning till night.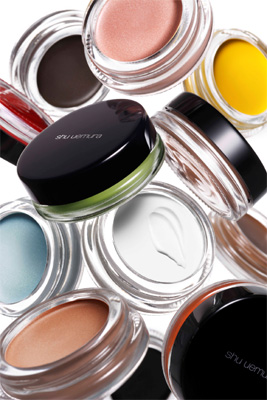 BLENDABLE AND BUILDABLE TEXTURE: Blend and build the Cream Eye Shadows to add exquisite dimensions and nuances to your eyes. The solid formula is made of a combination of wax, oil and jellifying agents, which soften the texture and make it easy to blend with other shades to create unique colors. Silicone oils allow the formula to glide over the eyelids with ease and comfort. Gorgeous contrasts in color and texture can be created when layered with pressed eye shadow.

PURE AND LASTING COLOR: Each of the nine shades delivers intense color payoff and fixation. Perfect for light, shadow, hue and complexion control, the matte colors have been specially selected for their ability to meet the artistic needs of the makeup expert. The sheer, pearly hues can be used by themselves as a base or with pressed eye shadows to enhance and deepen colors. These versatile shades are also perfect for creating a sexy, dewy look on eyelids.
Color lasts for hours without any signs of fading or creasing. When applied, the formula's volatile oil evaporates and a film former polymer creates a transparent layer on the skin that concentrates the color and prevents it from coming off. Also waterproof, the quick-drying, non-sticky, non-drying product stays comfortably in place even when eyelids move or stretch.
Suggested Retail Price: $30.00
Available: April 2009 shuuemura-usa.com, shu uemura boutiques and counters nationwide.
shu uemura new Spot Brightener: Japan has long held the secrets of whitening technology. Pioneering beauty brand shu uemura has unlocked this treasure by harnessing the power of nature, the intelligence of science and the unique Japanese artistry, creating White Recovery EX+ Spot Brightener.
This breakthrough two-in-one instant spot brightener significantly reduces melanin content by 56 percent for clarified, illuminated skin. With just a single stroke, the appearance of spots is minimized thanks to the combination of whitening skincare benefits and optical brightening effects. Usable anytime and anywhere, the pen-type applicator allows precise application for age spots, acne scars and even dark circles under the eye.
TECHNOLOGY: HEPES and Lipo HA: Gently exfoliates melanin-contained skin cells to help reduce visible spots. Prune Extract: Helps inhibit melanin transfer. Sakura Leaf Extract: Improves skin's texture and inhibits the activity of tyrosinase, an enzyme that catalyzes the production of melanin and other pigments from tyrosine by oxidation (e.g. blackening of a peeled or sliced potato exposed to air). Micro-Pearls and Diakalyte. Creates optical effects to minimize spots and dullness.
APPLICATION TIPS FROM ARTISTIC DIRECTOR GINA BROOKE:

Apply the brush on pigmented areas and spread the formula evenly. Using under or over makeup, blend the formula in with patting until skin's tone is evened out. "I used the spot brightener and loved the whitening effect," says Gina Brooke. "First and foremost, the pen applicator and brush is amazing as I love not having to dip my fingers into a jar or squeeze the serum from a tube."
 Suggested Retail Price: $45.00
Available: July 2009 at shuuemura-usa.com, shu uemura boutiques and counters nationwide.