Perfect for the upcoming Summer months shu uemura introduces a new line of beautiful, long lasting Painting Gel Liners and an Eternal Gold collection.
shu uemura Painting Gel Liner Collection: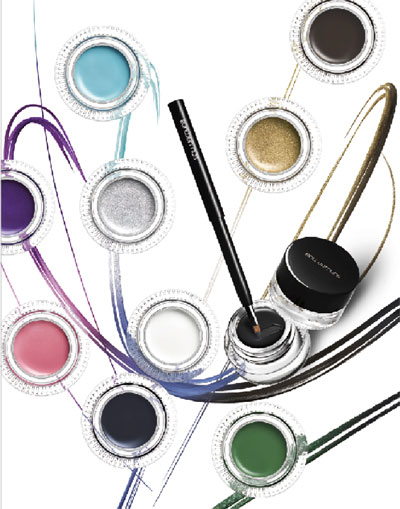 · This waterproof liner stays in place all day. The long-wear formula is perfect for the upcoming summer months!
· Resistant to sebum, sweat and tears.
· Three types of volatile agents give the liners a smooth and even glide across the skin.
· Creamy texture allows time for adjustment and blendability.
· Nine shades range from defining colors to vivid accents to glitter and shine.





 · Mix and match to create desired colors!
· Portable Eye Liner Brush makes it easy to master even the most delicate of lines.

Painting Liner Suggested Retail Price: $24.00
Portable Eye Lining Brush Suggested Retail Price: $28.00
Available: May 2009 at shuuemura-usa.com, shu uemura boutiques and counters nationwide
shu uemura Eternal Gold Summer 2009 Collection:
UV Under Base Mousse Shimmer SPF 10: Creates a radiant complexion while smoothing and evening out skin tone! Mousse texture melts into skin allowing three different types of pearls to spread evenly across the face, highlighting it with a subtle glow.

Bronzing Powder: Three beautiful shades of transparent powders in light medium and dark colors Large plate micas reflect light to create a glowing finish.
Goat Brush: Perfect for any pressed or loose powder. Hulbert shape defines contours and highlights facial features!
Check out shu uemura brand new website!