A Cleaner and Greener Lifestyle… It's in Your Hands. Introducing Nicky Kinnaird's new concept for hands.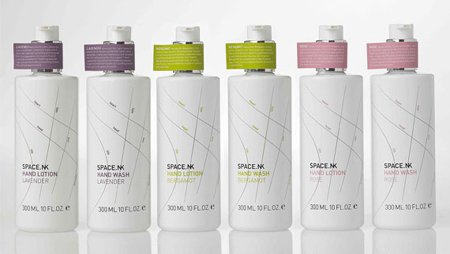 Space NK founder Nicky Kinnaird has pioneered a revolutionary range for hands under her own Space NK label that are gentle on your hands and kind to the planet. Simply called Space NK Hands, the range is more than 95% natural and comprises of Hand Washes and Hand Lotions fragranced with three organic essential oil blends.
The mild, gentle, clean formulas are made with naturally derived ingredients and are completely free from parabens, sulfates, glycols, mineral oils, petrolatum, PEG, DEA, TEA, synthetic colours, silicones, Phthalates and synthetic fragrance.
Harsh chemicals have been replaced with the finest natural ingredients to cleanse, moisturise and to leave skin feeling silky smooth.
Hand Washes
These mild, sugar and coconut derived hand washes, contain vegetal glycerin to moisturise and silk derived proteins to leave your hands silky smooth.
Hand Lotions
The mild, sugar and coconut derived hand lotions are enriched with a moisturising blend of candelilla, rice and jojoba. Skin softening almond oil and vegetal glycerin help to protect your hands while leaving them silky smooth.
All Space NK Hands bottles have been made using 100% post consumer regrind resin.
Hands contain premium grade essential oils:
Bergamot (citrus Bergamia)
Bergamot is a small pear-shaped orange that gets its name from the city of Bergamo in Italy where it was first sold. Renowned for its uplifting properties, Bergamot oil is used extensively in perfumery and Earl Grey tea.
Our organic Bergamot oil is extracted from the rinds of fruits in the sun drenched orchards of the Calabria region in Southern Italy.
An uplifting fragrance with zesty top notes of lemons, oranges and mandarins and infused with aromatic undertones of lavender, rosemary and peppermint.
Lavender (Lavendula Angustifolia)
Lavender is thought to derive from the Latin word 'lavera' (to wash) as the Romans used it to scent their bath water. Reputed for its relaxing properties, lavender oil is cherished as a perfumer's essential.
Using organic French lavender from the hillsides of Grasse, Space NK Hands' essential oil is distilled from the flowering lavender tops to ensure the most aromatic and pure fragrance.
Light and aromatic, the relaxing and comforting fragrance opens with mint and coriander top notes set against a sensual patchouli and cedar base.
Rose (Rosa Damascana)
Reputed as the 'Queen of Flowers' in perfumery circles, rose is believed to be the first flower from which essential oil was distilled in the tenth century. Still one of the most precious oils, it takes about 60,000 petals to produce one single ounce of Rose oil.
Heavenly scented and preciously prepared, Space NK's organic rose essential oil is distilled from thousands of Bulgarian rose petals picked early in the morning to ensure freshness.
Opening with resplendent citrus top notes, Space NK Hands' Rose is warmed with a gentle geranium base. An alluring and feminine fragrance to delight the senses.
Space NK Hand Wash Bergamot, $28.00 (300ml)
Space NK Hand Lotion Bergamot, $28.00 (300ml)
Space NK Hand Wash Lavender, $28.00 (300ml)
Space NK Hand Lotion Lavender, $28.00 (300ml)
Space NK Hand Wash Rose, $28.00 (300ml)
Space NK Hand Lotion Rose, $28.00 (300ml)
New Space NK Hands collection products will be available exclusively at Space NK stores, Space NK at select Bloomingdale's locations, www.spacenk.com and by mail order.