"Do My Back" is the well designed and easy to use answer to that classic question…."can you do my back?" This is the ultimate product that allows you to apply sunscreen, self tanner and moisturizer to your own back with ease and style! Perfect for everyone who needs lotions and potions applied to their own backs at the pool, by the sea, and in and after the bath.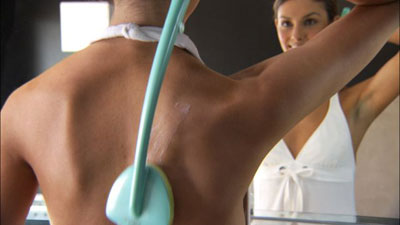 Do My Back was also featured on E! News in their "Summer Essentials" segment.
Do My Back was created and developed by Kate Slavin, a New York City gal with a background in fashion and magazine publishing. Kate is a lover of warm weather vacations…. so after the break up of a romance, she headed to a sunny spot where she planned on clearing her head and healing her heart.
Sitting by the pool one day, she didn't want to ask anyone to put lotion on her back, but of course wanted all over protection and an even tan. When she returned home, she looked for that perfect product that would allow her to apply any type of lotion to her back, but it just couldn't be found! After much investigation, she discovered that a chic, easy to use, portable lotion applicator for your back didn't exist. It was then that she knew she would take this vacation idea, and turn it into a pool, beach and bath necessity!
How to use Do My Back: Simply pour your lotion directly onto the foam pad, and DO YOUR BACK!  The unique swivel design of the head, extendable handle, and soft grip, make for ergonomic and comfortable use. The Do My Back is designed to use folded or unfolded, and is the perfect addition to your pool, beach, or bath experience.
Each Do My Back package contains one Do My Back applicator in shimmer blue, as well as four green foam reusable pads. The pad  attaches directly to your Do My Back and can be easily rinsed out for reuse with the same or different lotion.
The Do My Back will be available on HSN, beginning in June 2009 for $19.95 as well as domyback.com
Do My Back and Kate Slavin will be appearing on HSN June 8th, 2009,  (all Eastern Standard Time)
1:00 AM
11:00 AM
10:00 PM