Banana Republic Beach House Candle: Evoke fond memories of barefoot days by the sea and breezy evenings in the hammock with Banana Republic's most summery scent. From the moment you light the Beach House Candle, its leafy blend of blooming florals and light woods brings back a flood of summer recollections. Experience the joy of discovering the perfect shell and the pleasure of drifting off to the sounds of crashing waves and chirping crickets when you infuse your home with the scent of Banana Republic's Beach House candle.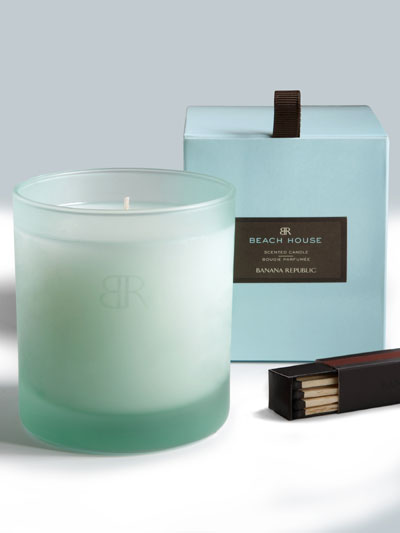 Top notes of beech tree leaves, sunny marigold, purple wisteria and honeysuckle nectar mingle with mid notes of English lavender, blooming white hydrangea, lily pond lotus and pink peony petals.
The scent is grounded in a base of plush oak moss, sun-bleached teak wood, burnished sandstone and South Hampton hedges, stirring the senses and transforming your environment into a seaside cottage.
$24.00; Available for a limited time at Banana Republic Stores only.