Taylor Swift is gracing the cover of In Style December 2009 Issue!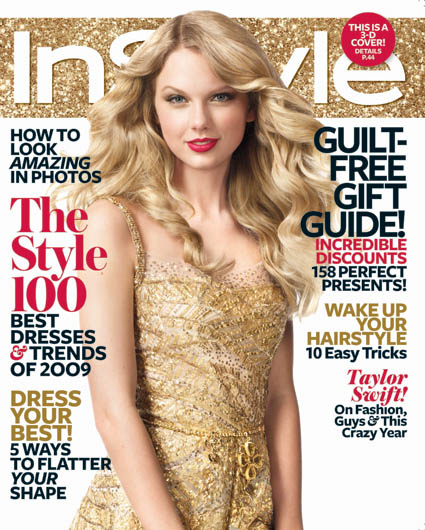 Also, Instyle magazine is bringing a NEW way to shop. Instyle's December issue is offering you the chance to shop 25 Brands, from Chanel to Intel in 3D. Beauty deals includes: L'Oreal, OLAY, Lancome, Chanel and MORE. Gifting In 3-D, A New Dimension In Holiday Shopping employs augmented reality technology to create a fun and engaging new way to shop. PLUS you can Enter to Win a $1,000 Shopping Spree in NYC
How Gifting in 3D works:
Flip open your December issue of InStyle to get started!
1. Open to page 285 of InStyle's December issue
2. Log on to: http://giftingin3d.instyle.com/index.html
3. Follow the simple instructions
4. Shop the holidays in 3D!
If you don't have an issue on hand, you can still shop in 3D. Simply print the "Gifting in 3D" trigger pages directly from the Web site (InStyle.com/Giftingin3D), hold them up to your webcam, and start shopping! The experience can also be shared virally. Expect to find deals, messages, and product suggestions from spectacular brands including: YSL, Neiman Marcus, Chanel, DVF, HP, and MORE!