Luxury retailer, Bergdorf Goodman is introducing The Natura Bisse 02 Bubble, a spacious, insolated area, especially suited for beauty treatments, in which you breathe pure oxygen, free of contaminating particles and allergens, from August 24th to September 10th.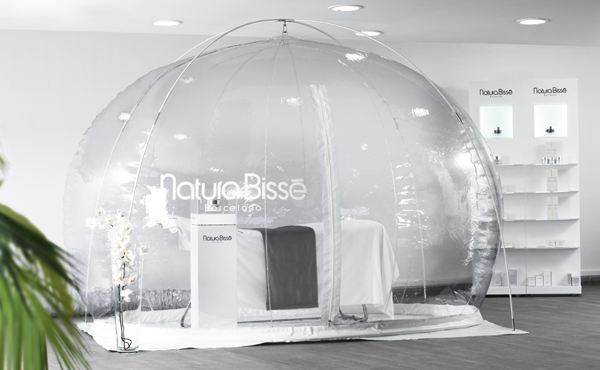 The bubble will be offered on cosmetic floor of the prestigious New York specialty store where clients will be able to experience the AGE RECOVERY CURE facial. The luxurious treatment that lasts for an hour takes place in a cocoon-like environment with 99.9 percent pure filtered air, increasing the efficacy of the products used during the facial. This treatment is an exclusive Natura Bisse facial with detoxifying, energizing and repairing properties for the skin.
The 02 Bubble offers a unique and unparalleled experience that submerges the client in an aromatic environment, with soft music and a setting for complete tranquility transports the client to a state of relaxation through deep breathing and holistic techniques.
The Natura Bissé Bubble, which was launched globally at the 2009 Oscars, has boasted one success after another and will now be available in New York. Bergdorf Goodman, one of the original luxury department.