THE RUNAWAYS prize pack giveaway, 1 lucky winner!
How to WIN: Please leave a comment and tell us why should we pick you! 🙂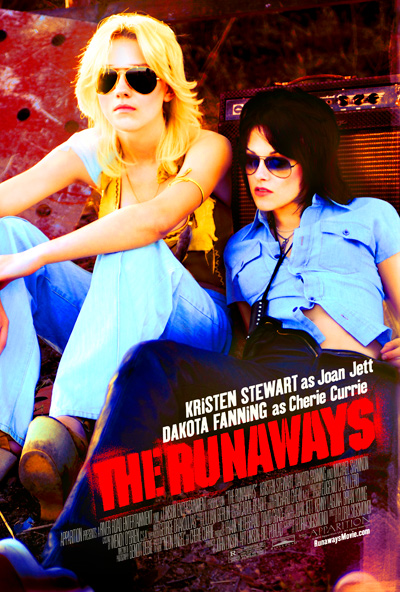 Prize Pack includes:
(1) Official Branded "Cherry Bomb" T-Shirt
(1) Official "The Runaways" Button Pin
(1) Official "The Runaways" Guitar Pick
(1) Official Full-Size Cherry Bomb Poster
(1) Official "The Runaways" Movie Soundtrack
Rules:
– Winner must be in the US and have a non PO box shipping address
– Winner must be claimed within 14 days of contest launch
GOOD LUCK to all!
The Runaways will be released in theaters on March 19, 2010!
Starring: Kristen Stewart, Dakota Fanning and Michael Shannon
Directed By: Floria Sigismondi
Produced By: John Linson, Art Linson and Bill Pohlad
Synopsis: Kristen Stewart and Dakota Fanning star in this music-fueled story of the ground-breaking, all girl, teenage rock band of the 1970s: The Runaways. The film follows two friends, Joan Jett and Cherie Currie, as they rise from rebellious Southern California kids to rock stars of the now legendary group that paved the way for future generations of girl bands. Joan and Cherie fall under the Svengali-like influence of rock impresario Kim Fowley, played by Michael Shannon, who turns the group into an outrageous success and a family of misfits. With its tough-chick image and raw talent, the band quickly earns a name for itself—and so do its two leads: Joan is the band's pure rock' n' roll heart, while Cherie, with her Bowie-Bardot looks, is the sex kitten. Written and directed by Floria Sigismondi, the film chronicles Joan and Cherie's tumultuous relationship on and off stage, as the band starts to break out.
Official Website: runawaysmovie.com