diptyque Paris has just debuted their new (and first-ever!) e-commerce site. Now US consumers can shop the full breadth of the line right at their fingertips at www.diptyqueparis.com. They have also just launched a new Eau de Toilette, Vétyvério.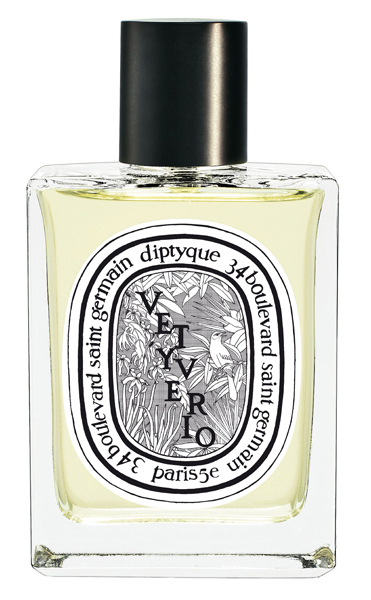 Vétyvério Eau de Toilette by diptyque: The core of the fragrance is vetiver from Indonesia and the Caribbean. Additional notes include: organic ylang ylang from Madagascar, Turkish rose, and peppery geranium from Egypt. Hints of Italian mandarin orange, Florida grapefruit, Sicilian lemon, and bergamot keep the EDT fresh and fruity, rather than citric. A few spices (carrot seeds, nutmeg and clove) combined with the dryness of cedar adds structure to the final product.
diptyque has cemented its reputation in the midst of the olfactory frenzy. First, by creating the collection of candles that we now know, and then, with its eaux de toilette (no fewer than twenty), which have since also grown into cult objects. Vetiver from diptyque's angle and perfumer's Olivier Pescheux's imagination and hands is in the same vein as Tam Dao, an exquisite and exceptionally rare sandalwood from Goa and pulls apart from perfumery's traditional codes. A plant with long, razor-sharp leafs and tangled dusty roots grows in the dry laterite there. It looks like a dehydrated reed, and people in Bombay, Colombo and Java call it Andropogon Squarrosus, Vetiveria Zizanoides Stapf, Anatherum Muricatum, or Kus Kus. In the west, we call it vetiver. Vetiver perfume is damp and dry, cool and warm, and a treasure.
More official description:
Vetyverio is neither masculine nor feminine. Or both. As diptyque is not especially fond of "one size fits all" concepts, it has had a fun time blurring the lines by blending perfumery's archetypal raw materials, namely masculine vetiver and feminine flower bouquets. Men are certainly not beasts and women, fortunately, are not dolls. The flowers are not where you expect them. The sweet-tasting, organic ylang ylang from Madagascar, sensuality-steeped Turkish rose, and absolute and slightly peppery geranium from Egypt add their cheerful touch, glimmer and distinctive inflection, and add up to a counterpoint to the virile slant you would expect from a vetiver perfume. But first things first! The Italian mandarin orange, Florida grapefruit, and Sicilian lemon and bergamot are fresh and fruity, rather than citric. They burst out eagerly, and the effect is exquisite, epicurean and radiant.
The core of the fragrance features two of the vetiver's amazing properties. The first, from Indonesia, is earthy, rough and splendidly reminiscent of unspoiled nature. The second is more subtle and delicate and hails from the Caribbean. Less known? No longer! This vetiver from Haiti is the perfect blend for the musks that cut through the formula: it completes it, tempers it, and adds a new – and remarkable – quality to it. These essences are distilled by the two systems – steam and fractional distillation – and add up to almost an overdose (25% of the total), which avoids intensifying the blend with synthetic input. At the end, a few spices – carrot seeds with sparkling apricot scents, nutmeg and clove – add the last surprise. The majestic cedar wood's radical dryness structures the whole effect and the powdery musk draws a nothing but sensual line on the skin. This fragrance is subtle, sensitive, and captures the power of unquestionable elegance.
The case is illustrated like every other that this Maison has produced, as the new chapter in a very lively book. And it tells a story too.
Vetyverio is available from May 2010, in a 50 ml 1.7 fl.oz natural spray and in a 3.4 fl.oz 100 ml natural spray. Price: $88, 50ml and $120, 100ml.
The product is available at all major retailers, diptyque's boutiques in New York and San Francisco and at diptyqueparis.com.