Zoe Saldana wears NARS Enchanted Cream Blush to the 82nd Annual Academy Awards.
NARS Cosmetics worked with celebrity makeup artist Vera Steimberg to create the makeup look for Zoe Saldana at the 2010 Oscars. NARS' NEW Enchanted Cream Blush was key in creating Zoe's look along with many other products from the upcoming NARS Summer 2010 Collection.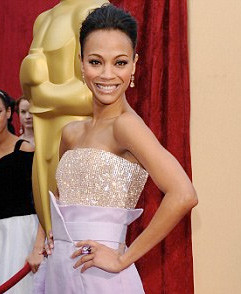 "We wanted to achieve a sexy and sophisticated look while keeping it balanced with her dress. With luminous skin and neutral-glossed lips, I was able to really focus on her beautiful almond-shaped eyes." -Vera Steimberg for NARS Cosmetics.
Zoe Saldana wore the following NARS products to achieve a fresh and luminous effect:
· Orgasm Illuminator
· Enchanted Cream Blush (NEW for Summer 2010; try Gueule de Nuit Cream Blush for a similar effect)
· Lamu Multiple (NEW for Summer 2010; try South Beach Multiple for a similar effect)
· Smudge Proof Eyeshadow Base (NEW for Summer 2010, Available May 1st)
· Brousse Duo Eyeshadow
· Nuits Blanches Eyeliner Stylo
· Larger Than Life Volumizing Mascara
· Love Devotion Lipstick (NEW for Summer 2010; try Casablanca Lipstick for a similar effect)
· Ophelia Lip Gloss