Marta Walsh has a behind the scenes photo of Katie Holmes shooting Ann Taylor's spring 2011 campaign ads. The campaign was shot outside a Pasadena mansion by renowned fashion photographer, Tom Munro in early December 2010.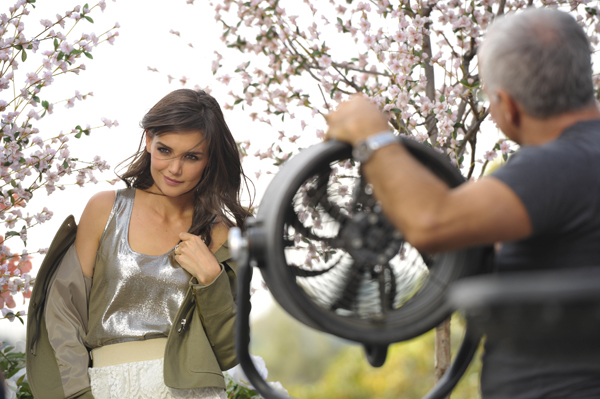 Photo courtesy of Ann Taylor, Photo by John Shearer, WireImage
January 12, 2011 New York, NY- Ann Taylor announces Katie Holmes as the face of Ann Taylor's Spring 2011 advertising campaign that will debut in March magazines.
Shot by world-renowned fashion photographer Tom Munro, the Spring 2011 advertising campaign captures the new Spring collection – a fresh, feminine take on American sportswear. The ads feature Katie Holmes modeling iconic Ann Taylor pieces at a beautiful home in Los Angeles.
"We are thrilled to have Katie as the face of Ann Taylor. Katie personifies the Ann Taylor brand – smart, talented, incredibly chic, and living a full life with beauty and grace. We admire and respect Katie for her intellect, kindness and enduring personal style," said Christine Beauchamp, President of Ann Taylor Stores.
"I've been a fan of Ann Taylor since I was a young girl. I grew up loving the clothes…and am really excited to be the face of Ann Taylor for the Spring season. I am thrilled to be part of a brand I believe in," said Holmes.
While creative director Lisa Axelson has been at the helm of Ann Taylor's design team, the brand has attracted many new fans including such celebrated style icons as Heidi Klum, Naomi Watts, Milla Jovovich, Rachel Bilson, Christina Hendricks, Halle Berry, Ashley Greene, Kelly Rutherford, Olivia Palermo, Vanessa Williams, Elizabeth Banks, Joy Bryant, Anna Kendrick, Rihanna, Jessica Simpson, Kerry Washington and more.
About Ann Taylor:
Ann Taylor defines what it means to be chic, smart and sophisticated. Always relevant, always stylish—Ann Taylor offers beautiful, refined fashion designed for how women live today. Ann Taylor operates 280 stores across the United States, as well as online at anntaylor.com. Ann Taylor is a division of Ann Taylor Stores Corporation (NYSE: ANN).