Carolina Herrera known for her sophisticated design and elegance receives the distinguished title of "Mercedes-Benz Presents" designer for this season's spring/summer 2011 collection debuting on Monday, September 13th, 2010, at 10:00 am at Lincoln Center, the new home of Mercedes-Benz Fashion Week.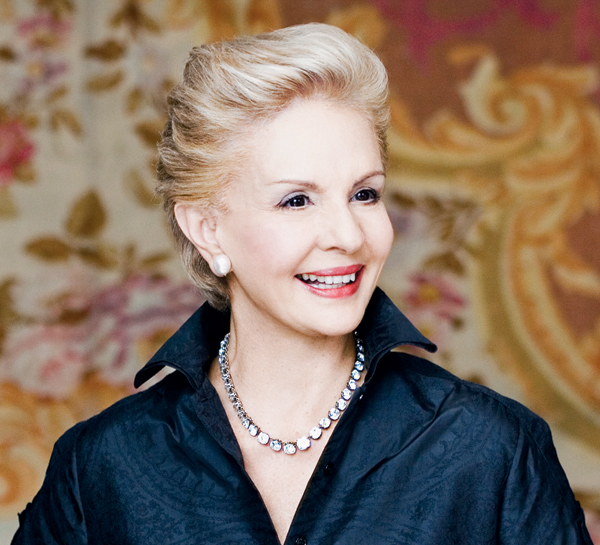 The "Mercedes-Benz Presents" program recognizes designers that demonstrate dedication to the use of quality materials, unique style and innovative design for the past seven years. "I am very proud to be chosen as the "Mercedes-Benz Presents" designer," said Herrera. "To be recognized in such an important year in Mercedes-Benz Fashion Week history, is, without question, a wonderful honor."
Carolina Herrera has designed for many celebrities and high profile clients including Renée Zellweger, Amy Adams, Michelle Pfeiffer, Emily Blunt, Oprah Winfrey, and Camilla Belle. She joins a prestigious list of past "Mercedes-Benz Presents" designers including Monique Lhuillier, Badgley Mischka, Narciso Rodriguez, and CHADO Ralph Rucci.
"Carolina Herrera's understated grace, precision design and attention to detail uphold the Mercedes-Benz commitment to quality," said Lisa Holladay, Manager of Brand Experience Marketing for Mercedes-Benz USA. "She is a symbol of great success within the fashion industry and especially in New York City and choosing her as this season's Mercedes-Benz Presents Designer represents the strength of Mercedes-Benz Fashion Week and the event's bright future at Lincoln Center."
Born in Venezuela, Carolina Herrera began her Fashion career in New York in 1980, and will be celebrating 30 years of her eponymous collection in 2011. Recognized throughout the industry for her impeccable style and elegant, feminine, sophisticated designs Carolina Herrera has been awarded by the Council of Fashion Designers of America two distinct honors "Womenswear Designer of the Year" in 2004 and in 2008 the "Geoffrey Beene Lifetime Achievement Award". Carolina Herrera oversees a design house which encompasses her signature fashion collection and bridal collections, her lifestyle collection CH Carolina Herrera, and ten successful fragrances.
Prior to the unveiling of Carolina Herrera's spring 2011 Collection during Mercedes Benz Fashion Week the Designer will fete two milestones in support of Fashion's Night Out on Friday, September 10th. The highly anticipated opening of the CH Carolina Herrera store at 802 Madison Avenue with special guest illustrator Robert Risko and the 10th Anniversary of her Madison Avenue flagship store at 954 Madison Avenue with a digital photo booth with creative backdrop for memorable shots of the evening.
Mercedes-Benz Fashion Week Spring/Summer 2011 will take place in New York, NY at Lincoln Center from September 9-16. Carolina Herrera is among more than ninety designers presenting their Spring/Summer 2011 collections at Lincoln Center including Diane von Furstenberg, Hervé Léger by Max Azria, Vera Wang, Badgley Mischka, Christian Siriano and Charlotte Ronson.
For more information about Mercedes-Benz Fashion Week at Lincoln Center, and for a schedule of shows and events, visit http://newyork.mbfashionweek.com.
ABOUT CAROLINA HERRERA LTD, THE COMPANY
Carolina Herrera, Ltd. founded in 1981 by Designer Carolina Herrera, in New York City, is an internationally recognized design house renowned for sophisticated, feminine, and elegant designs. Carolina Herrera oversees her signature fashion collection and bridal collections, her lifestyle collection CH Carolina Herrera, and ten successful fragrances.
Carolina Herrera New York boutiques number five in North America with locations in New York, Los Angeles, Bal Harbour, and Las Vegas; the Carolina Herrera New York ready-to-wear collection is sold in 59 department and specialty stores worldwide. The Carolina Herrera Bridal collection is available internationally in 52 specialty and department stores.
In 1988, the Designer created the first Carolina Herrera essence. Since then, and with the collaboration of her daughter Carolina, she launched ten successful fragrances such as 212 and the latest CH.
With the creation in 2001 of CH Carolina Herrera, the house has expanded into accessories with handbags and eyewear, menswear and childrenswear. Today this lifestyle line is present through 152 exclusive shop-in-shops and 38 free-standing shops throughout Europe, the United States, Latin America and the Middle East with 17 scheduled to open in 2010. The highly anticipated CH Carolina Herrera store on Madison Avenue in New York will open in September, 2010.
In 2008, the Council of Fashion Designers of America honored Herrera with the Geoffrey Beene Lifetime Achievement Award.