Heidi Klum rocked the red carpet in Christian Siriano at the 63rd Primetime Emmy Awards in Los Angeles on Sunday, September 18th. Klum, who is nominated for an Emmy for her hit show Project Runway, chose to wear Siriano tonight to further celebrate the success of the show.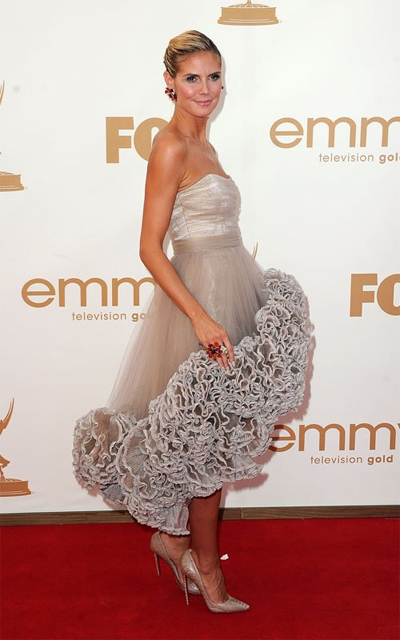 Heidi Klum WearsChristian Siriano at the 2011 Emmy Awards in Los Angeles, Sunday, September 18, 2011. Jewelry – Lorraine Schwartz. Shoes – Christian Louboutin.
"Christian is an amazing talent," said Klum. "He always knows how to bring out the femininity in a woman and created this beautiful dress for me. I'm very proud to support Christian who won our 4th season. I know he will be designing for a long time!"
"I dressed Heidi for the Emmy's when she hosted them a couple years back, and this time we wanted to go in a completely different direction," said Siriano. "The dress she's wearing tonight is a translation of a piece from my Fall 2011 collection. We originally did it similarly in black, but for the Emmy's this year we wanted to do a version in this nude color that better suited Heidi and the event. The bodice has vintage lace layered underneath tulle which continues down to meet ruffled organza. It looks more delicate than the black version from the runway.
The season four winner who designed Klum's dress specially for tonight attributes much of his success to the Project Runway host.
"Without Heidi Klum I wouldn't be in the position I am today, and I'm so happy to be able to show how much I respect her in my own way – with some beautiful pieces made just for her," said Siriano.
"She's one of the most beautiful women in the world and an icon in her field, and for her to wear my designs to the Emmy's in celebration of her equally impressive career in television just makes my day. She attended my Spring 2012 runway show last week as well and while she was here in New York we did fittings at my studio to get the dress just right. It means a lot to me to still have her support all these years later."