The word is in. Celebrity hair stylist Louise Moon created Jean Dujardin's handsome hair look for the 2012 Golden Globe Awards tonight, using Leonor Greyl hair products.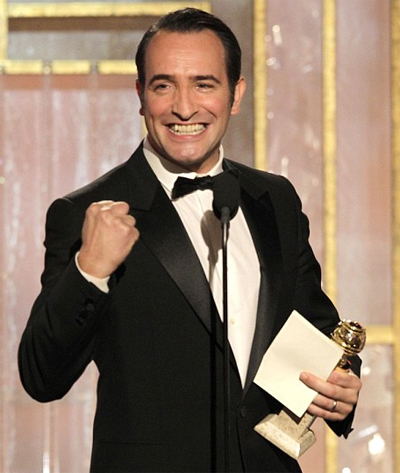 Jean Dujardin Hair Styled by Louise Moon Using Leonor Greyl  Haircare Products
 "We wanted to create healthy, super shiny, movie star hair" said Louise. After first shampooing with Leonor Greyl Shampooing Au Miel, Louise massaged stimulating Leonor Greyl Complexe Energisant Ampoules into the scalp and left in without rinsing. She then applied Leonor Greyl Mousse au Lotus Volumatrice from roots to end and blew dry for a thick, voluminous effect. Once dry, she lightly smoothed in Leonor Greyl Huile de Palme beautifying oil. "It creates a gloss that reflects light beautifully making Jean look like an absolute movie star" said Louise. She finished by spritzing on Leonor Greyl Spray Structure Naturelle and gently running a fine-toothed comb through to keep hair perfectly in place without removing any body.