New York Fashion Week Spring 2010 Report: John Patrick Organic Show Odile Gilbert for Aveda. Also, Aveda Lead stylists: Dennis Clendennen, Dionysus, The Woodlands, Texas.
The John Patrick Organic show took place this morning at Keen's Steakhouse in New York City.
The hair look for John Patrick Organic is a modern, playful take on Bohemian-chic. Hair is smooth and shiny on top with soft, free-flowing curls below the cheekbone and volume at the front—pulled back into a barrette, adding a girly touch.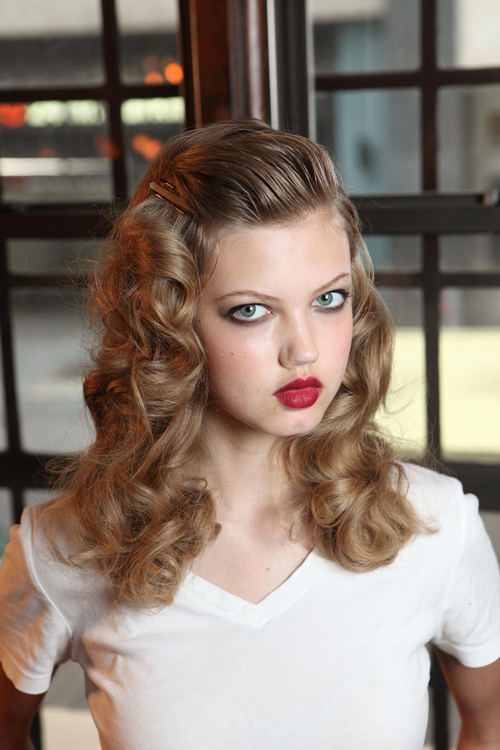 Get the Look Step-by-Step:
• Step 1: Prep hair with Aveda Phomollient Styling Foam to add body, volume, and shine.
• Step 2: Brush hair through and create a deep side part.
• Step 3: Divide hair into three sections: bottom, sides/top and middle, and secure in place with hair clips. Spray each section generously with Aveda Air Control Hair Spray for shine and hold.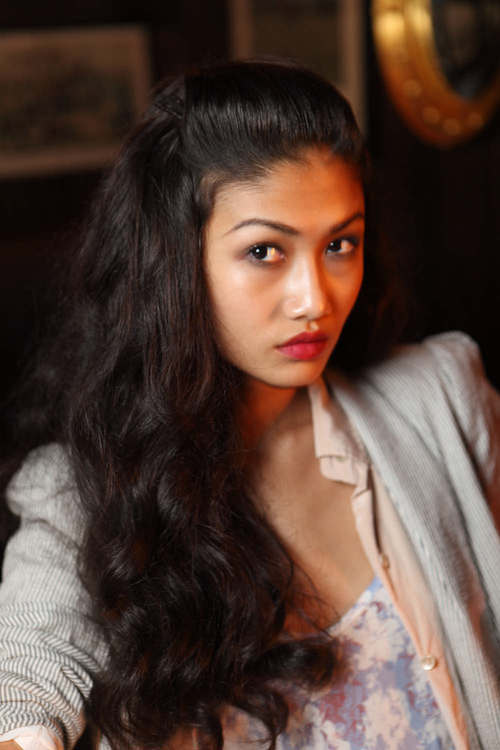 • Step 4: Starting with the nape of the neck, curl small sections of hair using a 1 inch barrel curling iron. Once curled, roll each piece into a loop using your index finger, and hold in place with a single-pronged hair clip. Continue curling hair, working around the sides toward the top of the head, leaving a one inch piece of hair untouched. Spray each curl with Aveda Air Control Hair Spray for added hold.
• Step 5: Curl the one inch piece of hair forward and secure with a single-pronged hair clip to allow the hair to cool.
• Step 6: With the exception of the front curl, remove all hair clips and brush curls through to create soft, full waves.
• Step 7: Rub Aveda Light Elements Shaping Wax between palms and smooth over the top of hair to reduce flyaways and add shine. Hair is now smooth from crown to cheekbones becoming full, loose curls.
• Step 8: Remove clip from top curl and twist slightly to create volume and lift in front. Secure hair in place with two small hair pins, and then pull back with a larger barrette that matches hair color. Spray Aveda Air Control Hair Spray directly on the lifted section of hair to add volume and hold.
• Step 9: Finish the look with a final misting of Aveda Air Control Hair Spray.
Aveda Products Used:
Aveda Phomollient Styling Foam
Aveda Air Control Hair Spray
Aveda Light Elements Shaping Wax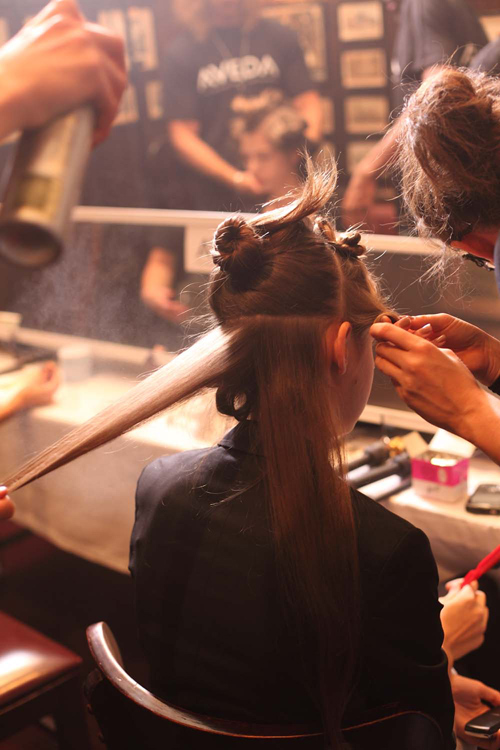 Q&A with Odile Gilbert:
Q: What was your inspiration for this look? How did you collaborate with the designer to create the look?
"I call this chic-bohemian look 'the wave.' Patrick was inspired by a photograph taken in the Krazy Kat Club in the 1920's, where the girls embodied a "wholesome Bohemia" full of enthusiasm and creative spirit. We worked together to translate this inspiration into a look for the seductive, modern girl who attends private speakeasies. She is distinctive, intellectual, and very pretty—yet fun-loving and young."
Q: How could a woman achieve this look on her own?
"This look is gorgeous and easy to recreate for day or evening. Prep hair with Aveda Phomollient Styling Foam and create a deep side part. Spray hair with Aveda Air Control Hair Spray and curl with a one-inch barrel curling iron. Brush through to create soft, full waves. Smooth the top of hair with Aveda Light Elements Shaping Wax to tame flyaways and achieve a smooth, modern finish. Lastly, twist the front curl back and secure with a barrette, adding Air Control Hair Spray for volume and hold."
Q&A with John Patrick Organic:
Q: What is the inspiration for your collection? What is the look you are capturing?
"This season, I wanted to dig deep below the surface of Bohemian style, and create a free-spirited look that's chic, pretty, and fresh. I was inspired by a photograph taken at the Krazy Kat Club in the 1920's and sought to create of a dressy, "wholesome Bohemia," defined by artistic endeavor and intellectual pursuit. The collection is bright and optimistic—true Bohemians are enthusiasts. It features a mix-match of happy, classic Bohemia and chic, wear-anywhere utility pieces. The mix-and-match strategy is signature Organic, but shows my wholesome, Bohemian point-of-view. What's Bohemia without self-expression?"
Q: You have made a real effort to "green" your show this season. How do you feel about this accomplishment?
"I'm thrilled to be 'greening' the backstage with Aveda. There's nothing about going green that doesn't feel good."