Everyone wants to have the hottest summer sandals; and wedges are all the rage. Lindsay Phillips and Foot Petals have all your summer shoe needs covered!
Evie Espadrille Wedge: This fresh take on the espadrille comes with a flirty leopard print interchangeable snap. Designed with a rope-wrapped edge, the espadrille comes in black coated canvas and soft white gold leather.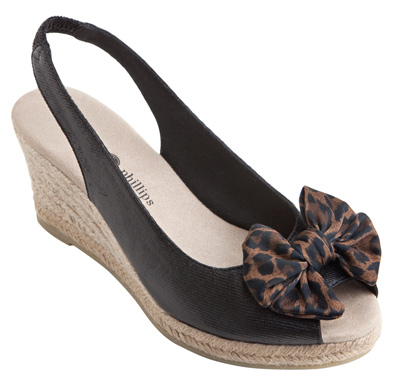 Missy Wedge: Get a little lift with this two-inch, raffia-wrapped wedge. Designed with a cushioned heel seat for additional comfort, the bronze wedge comes adorned with Lindsay Phillips' signature ruffle ribbon strap featuring a flower button.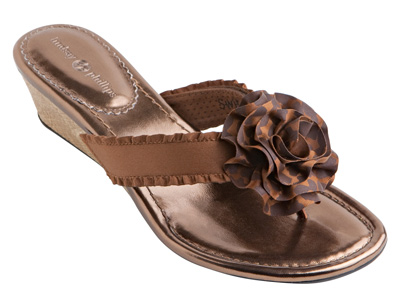 No summer sandal can be complete without Foot Petals! Sometimes you need more than a pedicure to refresh sweaty, sore, and sometimes smelly soles. To protect feet from the casualties of summer, Foot Petals founder Tina Aldatz created 3-Step Sole-utionz, a three-product kit for hydrating, soothing, and cushioning hot and tired soles. Follow Foot Petals' three steps to perfectly pampered feet:
• Step 1: Pedi Fume: Soften, soothe, and smooth feet with this anti-inflammatory cooling gel. Pedi Fume helps heal dry, cracked skin with moisturizing ingredients such as aloe, silicone, and jojoba wax.
• Step 2: Sweaty Pedi: Refresh hot, tired feet with this cooling foot spray. Formulated with a unique blend of menthol, natural tea tree, wasabi extract, lavender, and vanilla, Sweaty Pedi cools and softens swollen feet, disinfects and eliminates foot odor, and normalizes bacterial balance.
• Step 3: Rose Killer Kushionz: Protect and comfort feet with these three-quarter length cushion insoles. Killer Kushionz are invisible when worn in heels, flats, wedges, and strappy sandals, secretly supporting your feet in your favorite sexy shoes.