New York City's newest design trio The twentyten introduces Fall/Winter 2010 with dark, textural collection inspired by modern industrial design. The twentyten has been worn by celebrities including Peaches Geldof, Sofia Lamar, Britney Spears, and Keri Hilson.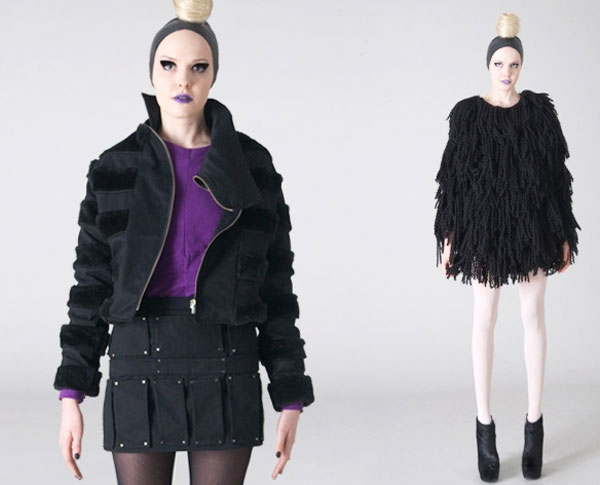 Rooted in the clean, modern lines of 20th century architectural pioneer Mies van der Rohe and inspiration ranging from the moody to the morose, the twentyten is the avant-garde culmination of recent Pratt Institute graduates Jeff Dodd, David Krause, and Nina Zilka.
"We are generally influenced by architecture and often by bugs and various skeletons, things found in nature that are slightly creepy and architectural. As artists we always want to do something that makes people slightly uncomfortable; as designers we must translate this into an attainable, wearable idea."
As students at Pratt Institute, twentyten designers Jeff, David, and Nina were drawn together by their common fascination of the beautiful yet absurd. Since the launch of their first collection in 2008, executed while the young designers were still in their third year at Pratt, the twentyten has gained recognition for their uncanny ability to translate abstract concepts and forms into chic, modern silhouettes.
For Fall Winter 2010, the twentyten presented a cohesive collection of sixteen looks, eleven women's and five men's. Experimenting with texture, print, and sparse splashes of color in a predominately black collection, this season is inspired by military influences juxtaposed with draped elements, mixing a laid-back vintage vibe with a strong futuristic voice.
Standout pieces include a voluminous black yarn covered tunic, men's and women's "armored" jackets, and optically intriguing hand-painted tees and button-ups. The twentyten retails between $200 and $700USD.
Available at: and is currently sold at Eva NYC, Blank Boutique, and Convent in New York. For more information please visit www.thetwentyten.com