Designer Trina Turk, known for her sophisticated sportswear and signature prints, is this season's "Mercedes-Benz Presents" designer with plans to debut a Spring 2011 swimwear collection at Mercedes-Benz Fashion Week Swim located at The Raleigh in Miami Beach on Thursday, July 15, 2010.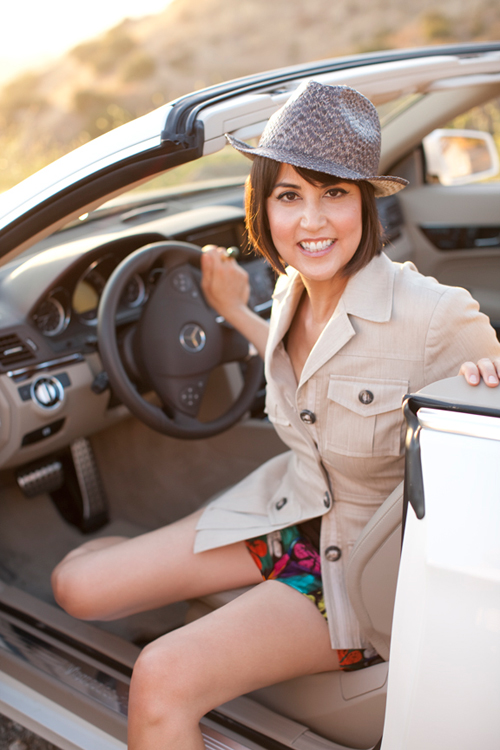 The "Mercedes-Benz Presents" program recognizes designers that demonstrate dedication to use of quality materials, unique style and innovative design. Trina Turk joins a prestigious list of "Mercedes-Benz Presents" designers including Monique Lhuillier, Badgley Mischka, Narciso Rodriguez, Red Carter and CHADO Ralph Rucci.
"It's always special to be recognized for my work in a large industry with many talented designers," said Trina Turk. "Being the Mercedes-Benz Presents designer is an honor as it acknowledges my commitment to unique design and craftsmanship from a brand that is a leader in innovative design."
The Trina Turk collection showing at Mercedes-Benz Fashion Week Swim incorporates unique prints in a range of colors including sophisticated use of black and white to multi-colored patterns of free flowing shapes. A significant amount of emphasis and detail is placed on hardware throughout the collection going beyond the typical loops and rings to a sophisticated use of unique pieces in gold inspired by Trina Turk's signature patterns and her love of vintage jewelry and architecture. Trina Turk draws inspiration for this season's collection from the city of Acapulco in the 1960's & 1970's, an era known for glamorous getaways by Hollywood's rich and famous and the international jetset.
In addition to her runway show during Mercedes-Benz Fashion Week Swim, Trina will make a personal appearance on Saturday July 17th, 2010 from 4-6pm at her store located in the exclusive Bal Harbour Shops – one of only 5 standalone Trina Turk stores throughout the Country. Hosted by Amanda Fernandez-Leon, Jacquelynn Powers, Jilian Sanz and Sarah Arison, the latest styles from the Trina Turk pre fall and swim collections will be featured. A raffia clutch purse will be a special gift with any $300 purchase for this event.
"Trina Turk's signature patterns and designs are sophisticated yet fun and dynamic," said Lisa Holladay, manager of brand experience marketing for Mercedes-Benz USA. "Her swimsuits and clothing appeal to individuals who enjoy luxury and warm weather lifestyles, which is a natural fit with the newest Mercedes-Benz E-Class convertible in South Florida.
Mercedes-Benz Fashion Week Swim will take place in Miami Beach, Florida at The Raleigh from July 15-19, 2010. Designers presenting their Spring 2011 collections, include White Sands Australia, Beach Bunny Swimwear, Dolores Cortes, Swell Suits Miami featuring Naila, park & ronen and Olasul, Ed Hardy Swimwear, Crystal Jin, Swimwear Anywhere, Mara Hoffman Swim, Poko Pano, True Religion Swimwear, Aqua di Lara, Qiss Qiss, A.Z Araujo, Red Carter, Cia.Marítima, Luli Fama, Caffé Swimwear, Nicolita, Marysia Swim, Lisa Maree, Kooey Swimwear Australia, Aquarella Swimwear, Lisa Blue and Tyler Rose.
For more information about Mercedes-Benz Fashion Week Swim at The Raleigh, and for a schedule of shows and events, visit www.mbfashionweek.com/miami.
ABOUT TRINA TURK
Established in 1995, Trina Turk began as a collection of contemporary clothing for women and has since successfully grown into a lifestyle brand. Today, Trina Turk designs, markets and distributes full collections of women's apparel, swimwear, accessories and home furnishings. Trina Turk is distributed throughout the United States in fine department stores including Nordstrom, Neiman Marcus, Bloomingdales and better specialty stores throughout the country. Her own boutiques in Los Angeles, Palm Springs, Burlingame and Newport Beach, CA, East Hampton and New York, NY, and Bal Harbour Shops in Bal Harbour, FL. For more information on Trina Turk, please visit www.trinaturk.com.