All Posts Tagged With: "Agent Provocateur"
Harvey Nichols launches an exclusive, limited edition Agent Provocateur Edition Porcelaine Eau de Parfum this August (2010), to celebrate the 10th Anniversary of the launch of Agent Provocateur's signature scent at the store and there are 20 bottles up for grabs!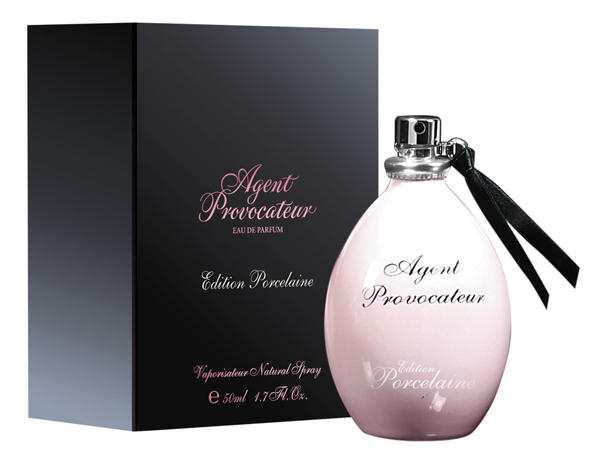 Go to the Harvey Nichols facebook www.facebook.com/harveynichols or twitter www.twitter.com/harvey_nichols between Monday August 23rd, 2010 and Monday August 30th for your chance to win 1 of 20 of these limited edition fragrances.
Plus-size supermodel Crystal Renn, appears twice in the upcoming V MAGAZINE (issue #64) which does not hit newsstands until March 2010.
Fresh off the heels of Crystal Renn's popular debut in V Magazine issue#63, she was shot by Amanda de Cadenet at the Smyth Hotel in Tribeca, New York City to commemorate V's previous controversial release – its first ever Size Issue, #63 in January. Styled by Yuki James, Renn wears a Agent Provocateur bra and Dolce & Gabbana briefs.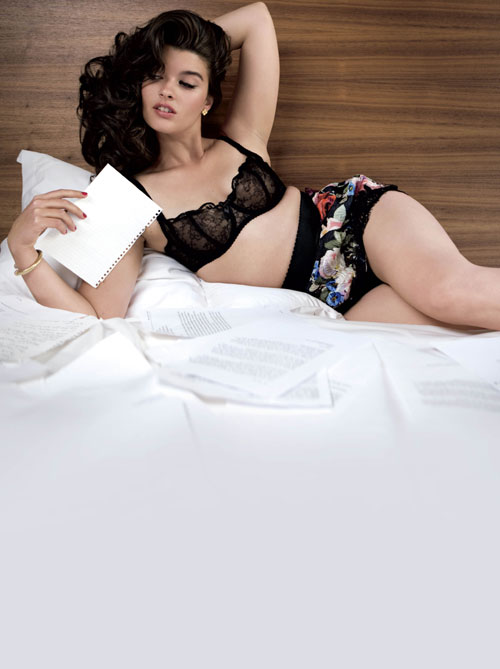 Photo credit: Amanda de Cadenet for V Magazine
Hollywood actress Maggie Gyllenhaal is the new face of British lingerie line Agent Provocateur. Maggie appears in Agent Provocateur's book called Lessons in Lingerie, which is a first in a series of books called: The Adventures of Miss AP.  The next book in the series, Lady of the Manor, will be released in November. 
Last year's face for Agent Provocateur was the beautiful Kate Moss.  Other famous names who featured in the Agent Provocateur's campaign include Kylie Minogue and Deta Von Teese.  Agent Provocateur lingerie line and perfumes is available worldwide.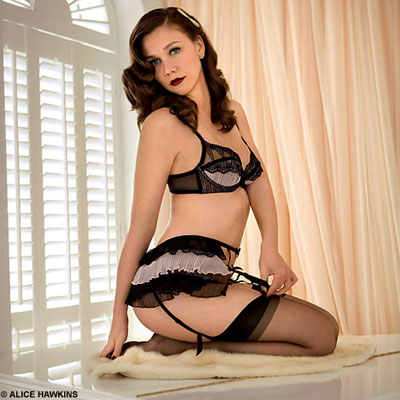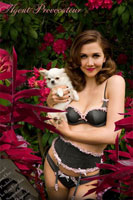 New at the house of Agent Provocateur or AP is Agent Provocateur Maitresse fragrance.  If you are a big fan of AP's signature classic scent then wait till you smell this. Agent Provocateur is also known for their sexy lingerie line.  This year the very famous supermodel Kate Moss was hired to feature in Agent Provocateur Lingerie short film directed by Mike Figgis.  The film is called:  Dreams Of Miss X, and you can download it, here on AP's official site.  The shoot for Agent Provocateur staring Kate Moss was shot on June this year in a private house located in Mayfair England.   Agent Provocateur is owned by Vivian Westwood's son, Joe Corre. 
Agent Provocateur Maitresse Eau De Parfume.  Main notes include:  white Lotus petals, white Ylang-Ylang, Osmanthus core, Jasmin Sambac, white Suede, and warm Musk.  Agent Provocateur Maitresse surely smells like seduction.  Cost:  $80 for 50ml, $115 for 100ml.